1st Gear
Join Date: Jun 2011
Location: oregon
Posts: 2
Thanks: 0
Thanked 0 Times in 0 Posts
2001 v6 accord dash lights out?
---
So i recently purchased a used 2001 accord v6 coupe, leather seats.. all the goods.... first day driving my dash lights flickered off, then back on... the next day the same only i had to kinda hit my dash to make them turn back on.. now theyy dont work at all?? the ac , radio and every other light works, except the dash lights, then the brake light randomly came on for about 20 min. then went off? any ideas?? im a girl and need some help
Super Moderator
Join Date: Jul 2007
Location: Canada
Posts: 9,930
Thanks: 57
Thanked 258 Times in 194 Posts
Bad connection somewhere, more likely a bad grounding point somewhere too, likely due to corrosion, it's not going to be easiest to find but you will have to locate the different connectors and electrical grounding points to see if there are any loose connection or oxidation that is causing the intermittent contact.
Welcome to DA.
---
2005 Satin Silver V6 Coupe 6 speed
TL shift knob, Hidden Hitch, Venture Shield clear protetive film,
GM Friction Modified Synchromesh transmission fluid,
2007 Acura TL-S front/rear sway bars,
Clutch slave cylinder restrictor valve delete.
Acura TL 5-spoke rims 245/45-17 Bridgestone Pole Position RE970
Honda steel rims 225/55-16 Michelin Primacy Alpin PA3
__________________
DA Moderator Team
DriveAccord.Net Forum Rules & Regs
DriveAccord.net Classified Rules
My First Post
Join Date: Jun 2011
Location: Altamont, NY
Posts: 1
Thanks: 0
Thanked 0 Times in 0 Posts
dash lights not working
---
Hello everyone. New member here.
Let me jump in on this thread even though it's not
exactly
the same problem. I just bought a 2000 Accord LX V6. The previous owner installed an aftermarket radio. Since then, the dash lights don't work. He put in some of those strip lights with the sticky backing and plugged them into the cig lighter for power. (I don't know how he could drive like that, they're so bright you could perform brain surgery under them)
Several forums address this question. Most suggest that the radio installation may be to blame, and others cite a multiplex unit. Our closest local Honda Dealer, Lia Group, (don't get warm fuzzies talking to them) claims that the forums are wrong and that radio or multiplex have nothing to do with it. They want me to bring it in for diagnosis. I'm seeing $$$ here.
On the bright side, I have the original radio, and another local dealer, Mohawk Honda, (they're much better to do business with but farther away) says they'll take out the aftermarket radio (which is a colossal pain to operate anyway) install the original for $93.
Anyone have any thoughts that might help? Feel free to answer directly at
rgs33@juno.com
, or her on the forum.
Thank you all so much
Rik Schlierer
Reverse Gear
Join Date: Mar 2011
Location: Denver, Co
Posts: 87
Thanks: 0
Thanked 0 Times in 0 Posts
After changing out the light bulbs in the gauge cluster several times, the connection socket where the harness connects to the top left of the cluster became really loose. At first, I had to hit it a couple times to get the light to turn on. Eventually, I took out and taped it up and it works fine now. I think the connection wasn't making enough contact with the circuit board or something like that.
What I'm taking about. It's the one on the top left that plugs into the cluster. I would move it around while it was connected to the car and it would turn on and off depending on how much I moved it.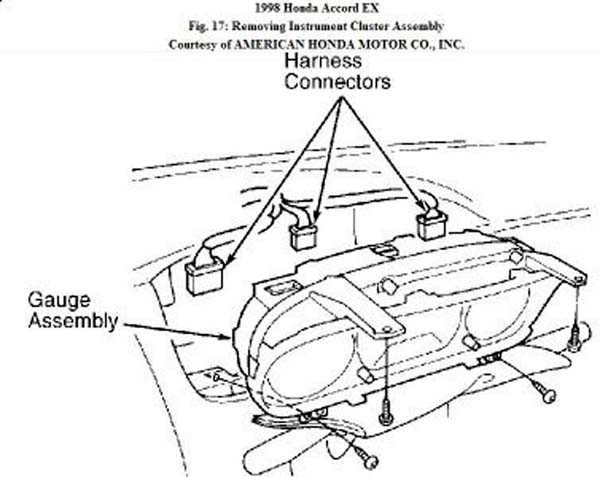 Hope that helps.
---
Look left --------> That's right (You fail)
'00 Accord EX-V6 DEP Sedan
Morimoto H1 Retrofit with 4300K
|
CATZ MSC Fogs
|
Full Amber LED Interior
|
AP1 Steering Wheel
|
Eclipse CD3200 HU
|
Tein S-Techs
|
Silverstar Wheels (Summer)
|
AP1 Wheels (Winter)
|
Intake Resonator Delete
My MPG
|
Buy my AP1 Wheels!!!
1st Gear
Join Date: Jun 2011
Location: oregon
Posts: 2
Thanks: 0
Thanked 0 Times in 0 Posts
not sure whats the deal now, had my brother take out my gauge cluster, all the wires were connected and did not show signs of corrosion , and the bulbs are still good, dont know where else to check, all my fuses are good too.. pulled my sterio fuse and my stock cd player reset. needed a code, lame. honda reset it with the code and then my speedometer stick went all the way around and went below the pin ha!!! had to then fix that, lame... still trying to see why my lights wont turn on, weird thing is my d4 lights work and my brake etc.. but not my gauges...
one wheel drive
Join Date: Jun 2007
Location: Hinesburg, VT
Posts: 592
Thanks: 6
Thanked 32 Times in 22 Posts
Any of your friends drive a 98-02 accord you could borrow the cluster from?

Maybe the dimmer control failed- does anything happen when you wiggle the dimmer knob for the instrument lights? Do the P R N D4, etc dim when you turn on the headlights? Sorry I'm not home with my shop manual but maybe someone could see if their book has a wiring diagram for the cluster and if you or your brother could find the pin for powering the instrument lights. Then at least you'd know if the circuitry was good
---
99 EXV6 Coupe 211k 6spd swap
95 F250 supercab 7.3 4x4 5spd
90
Donut Limo
- RIP, for you have served us well
My First Post
Join Date: Oct 2011
Posts: 1
Thanks: 0
Thanked 0 Times in 0 Posts
interior lights out
---
hey everybody im new at this forum, and i was hoping someone can help me with my car if anybody can help. recently i had an after market radio in my 2002 v6 accord coupe, i took the after market radio out of my car and put my stock radio back in, after it was installed, none of my lights didnt work inside my car, except my ac, radio, and the park,n,d, ect shifter lights inside the cluster still work, but the weird thing is that those lights that do work, only work when my head light switch is on the off position, but when i turn the head light switch to the on postition, the ac, radio and the shifter lights in the cluster turn off. and the other thing is that when i do turn my lights on at night, the radio button lights are very dim. i took it to honda and they did a diagnostic on it, and they said it was my main multiplex unit thats under the hood, but sometimes i dont know if they know what there talking about, is there anybody out there with the same exact problem???
if theres i would greatly apprieciate your help because its driving me crazy driving while its really dark inside my car at night lol