N00b
Join Date: Nov 2016
Location: Southeastern Vermont
Posts: 5
Thanks: 0
Thanked 0 Times in 0 Posts
'97 dist parts help
---
Hey there.
'97 accord wagon LX, f22b2
distributor is leaking, and I would like to replace the o ring(s) and cap seal
I stopped by my local shop to see if they had the o ring, but they had two different sizes and they were unable to tell me which one I should use.
I looked it up on advance auto parts website for reference, and the list a fel-pro 25 mm ID ring Part No. 72416
and an Beck/Arnley Part No. 039-6575 that doesn't list a size.
Could someone point me to the correct o ring and seal for this engine?
Thanks
banned
Join Date: Oct 2016
Posts: 45
Thanks: 0
Thanked 1 Time in 1 Post
What I did for mine was mosey on down to the HELP! Section and buy the distributor o-ring assortment.
Sent from my SM-G900V using Tapatalk
Bout it, Bout it
Join Date: Feb 2013
Location: The Right Coast
Posts: 432
Thanks: 5
Thanked 39 Times in 36 Posts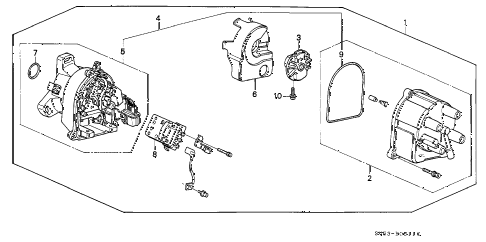 From the Honda eStore:
#7: O-Ring (26.4x3.1) (Tec)
Part Number: 30110-PA1-732
$2.33
#9: Gasket, Cap
Part Number: 30132-PT2-006
$1.87
---
2002 Honda Accord EX-L SULEV -- 200K miles
2013 Honda Pilot EX-L 4WD -- 35K miles
2002 Infiniti I35 w/dat VQ35 -- 115K miles