4th Gear
Join Date: Mar 2009
Location: Port Coquitlam, BC
Posts: 252
Thanks: 0
Thanked 0 Times in 0 Posts
Work Emotion CR KAI
18x7.5 +42 offset
Bronze Finished
BNIB = $15xx + tax + shipping
I got it for $800.
---
2008 Accord EXL Sedan I4 -Auto- TaffetaWhite

15% Tint
Wedsport TC105n 18x8 +42/18x9.5 +35 w/ Muteki lugs
HID-Outlets White 5-LED License Plate Light
Tein SS Coilover
Injen Short Ram Intake w/ MR Technology
Lower Grill Mesh Screen
Megan Racing Universal Muffler w/ 2.5" cat-back piping
iJDMtoys LED Interior Lights. [Doors, Map, Dome]
v-LEDs LED Interior Lights. [Vanity, Trunk]
TSX Projector Retrofit
Front License Plate Relocated
hc529's CarDomain
Sugar coating for you ..
Join Date: Apr 2009
Location: Port Arthur, TX
Posts: 6,121
Thanks: 0
Thanked 5 Times in 5 Posts
1. Manufacturer name: Vossen
2. Wheel size, offset: 20x9 38 20x10.5 45
3. Color finish: Silver w/ Chrome Stainless Steel Lip
4. General Price if known: $1950
| | |
| --- | --- |
| The Following User Says Thank You to Danielc409 For This Useful Post: | |
......
---
08 Honda Accord Coupe EX-L I-4
Night Hawk Black Pearl
Cardomain
Out of Control
Manufacturer
: Honda Factory Performance
Wheelsize/offset
: 18x7 45mm offset
Color
: Silver
Price
: MSRP- $1504.00/set, I paid $200.00
Attachment 25322
Attachment 25323
Attachment 25324
---
Desmond,
2013 Honda FIT Sport w/ Navigation
5000k HID's, Leather seats, Full Harmon Kardon System System, Cusco Mid-Brace. 10mm rear spacers, Tanabe Medallion Exhaust, HPS short ram intake and Tein S-Tech springs with race header and more to come
08 Acura TL w/Technology Pkg
08 Taffeta White Honda Accord EX-L w/Navi Coupe
(traded-in)
http://www.cardomain.com/ride/3093726
STUNNIN
Join Date: Dec 2008
Location: Roanoke Rapids, NC
Posts: 746
Thanks: 0
Thanked 5 Times in 1 Post
see sig
"Life In The Slow Lane"
Join Date: Dec 2008
Location: New Mil-ford NJ
Posts: 2,111
Thanks: 0
Thanked 0 Times in 0 Posts
Brand- TSW
Type- Cadwell
Finish- Polished with Gunmetal Accents
Size- 18 x8.5
Offset- +40
Price- 4 wheels/OEM tires/mount/balance/tpms/tax
$1106
---
2009 Accord Coupe EX-L V6 - 5AT- No Navi
San Marino Red/Ivory Interior
Legal Adoption: 12-13-2008
TSW Cadwell wheels (Gunmetal)--18"
"Accord" logo all weather mats
SM Red OEM splashguards
1. Privat Vulkans
2. 20x8.5 45 ET
3. Titanium
---
08 Accord V6 Coupe Auto NAV PMM/Black

Haves:
20% Tint / 55W 5K HID / Debadged / Rebadged with HFP Emblems / No DRLs / 7th Gen Coupe Headrests / Oddyssey Lower Grill / 20" Privat Vulkans 20x8.5 45 ET / 245 35 20 Nitto Extreme ZR 555's / HFP Suspension / TSX RSB / Magnaflow CBE / Crosstour Shifter / Xpel Fog Light Film

Wants:
Rearview Camera / Hacked Navi

Previous Rides:
2000 CLK 320
1995 3000GT
1988 Supra Turbo
1982 Supra
1985 Accord
| | |
| --- | --- |
| The Following User Says Thank You to next_milenium For This Useful Post: | |
Out of Control
Join Date: Sep 2009
Location: Boulder, CO
Posts: 2,723
Thanks: 0
Thanked 3 Times in 3 Posts
Ultimate Wheel Picture Thread
---
J.Kwak,
Quote:
"Wheel Picture Thread -- pics + specs only. no comments"
1. Manufacturer - Honda
2. Wheel size – 17"
3. Color finish – Aluminum
4. General Price – OEM included in price of car
---
'09 Accord Coupe Ex L-Nav (190hp) I4
- Alabaster Silver Metallic/ Zaino finish / Black Leather Interior
-Weathertech trunk, front
-3M clear bra, pillars, roof, rear deck
OEM:
- side molding
- fog lamps
- Auto dim mirror
HONDA Accords:
'99 Sedan EXL V6
76 K miles - 6th Gen (97-02) 3.0L V6 SOHC VTEC (200 hp)
'92 Coupe I4
127 K miles – 4th Gen (90-93) 1992 facelift I4 2.2L (125 hp)
'85 Sedan LX 4dr I4
98 K miles – 2nd Gen (82-85) 1985 refresh i4 1.8L (86 hp)
banned
Join Date: Dec 2008
Location: Burlington Washington
Posts: 1,243
Thanks: 2
Thanked 5 Times in 5 Posts
SSC Performance Gun Metal
20x8 45 offset
Falken FK 452
245/35R-20XL 95Y BSW
| | |
| --- | --- |
| The Following User Says Thank You to coolblue07 For This Useful Post: | |
3rd Gear
Join Date: Apr 2008
Posts: 175
Thanks: 3
Thanked 4 Times in 4 Posts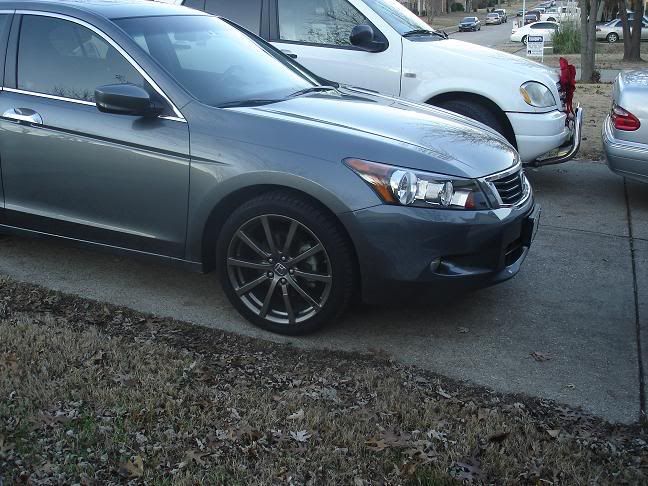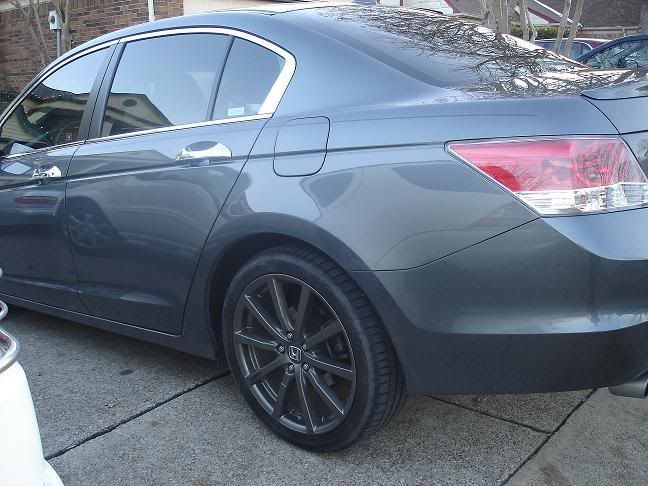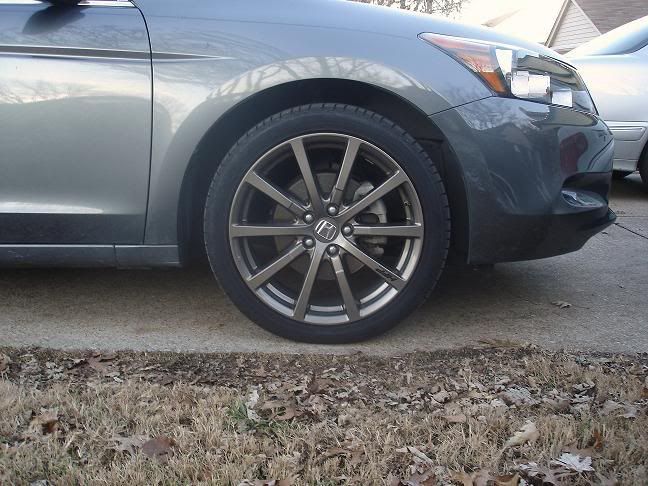 ---
Dallas, TX
2008 Accord V6 EX-L Sedan PMM
2015 Accord V6 EX-L Sedan CBP
1. 5Zigen Gravis 1
2. 20x8.5 front 20x9.5 rear +38 all around
Michelin Pilot Primacy 245/45/20 all around
3. Chrome
---
Offset is Everything.
Wheels up for sale
3rd Gear
Join Date: Jan 2010
Location: N. Cali (Sonoma County 707)
Posts: 135
Thanks: 0
Thanked 0 Times in 0 Posts
20" x 8.5
+40 mm
ADR's
Sitting on Proxes
1. Manufacturer name: Linea Corse Lemens
2. Wheel size, offset: 19x8.5 +38, 19x10 +40
3. Color finish: Silver
4. General Price if known: $2100
Photos courtesy of Godspeed
Top Gear
Mugen GP
18x7.5 +45 16.5lbs
Gunmetal
Retail: $2,500 -- Ebay: $1,500 -- Sale Price: $830
Falken Azenis RT-615 DOT Appoved Competition Tires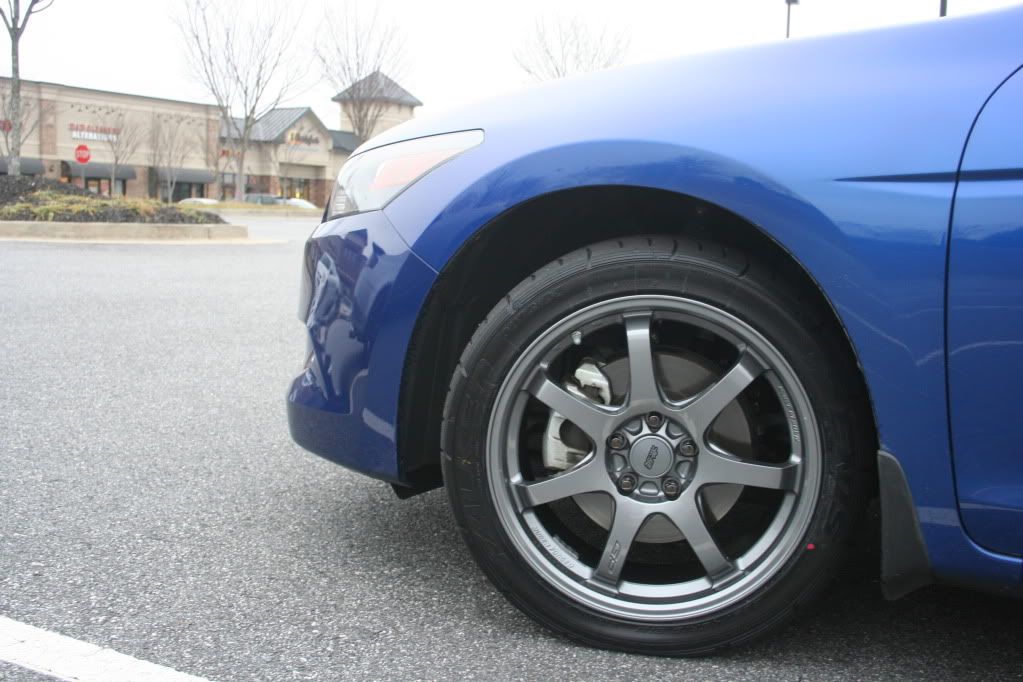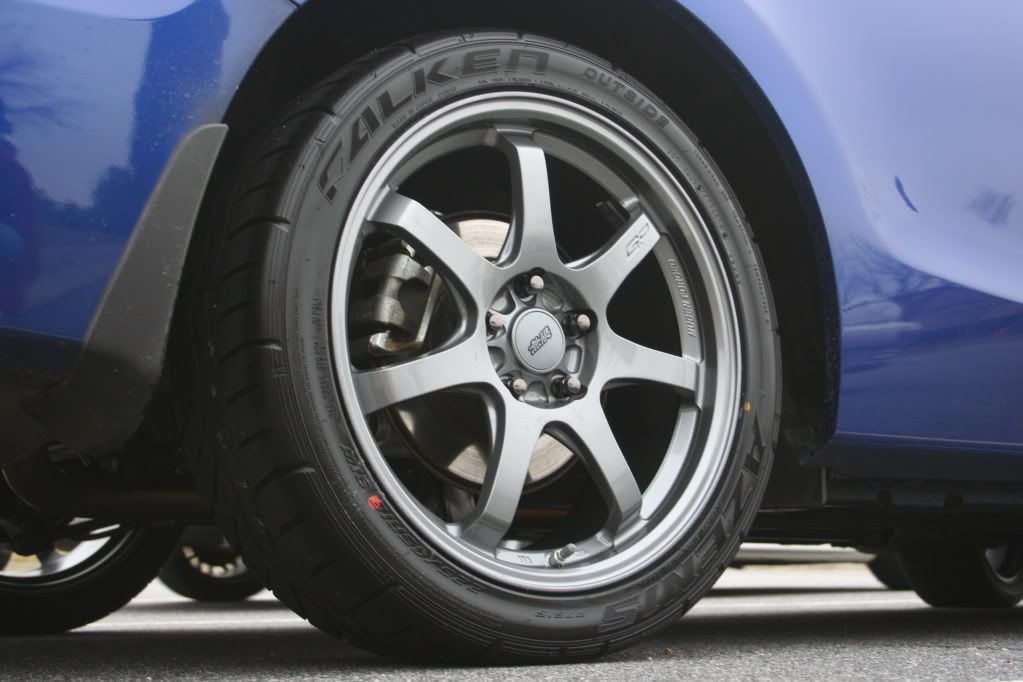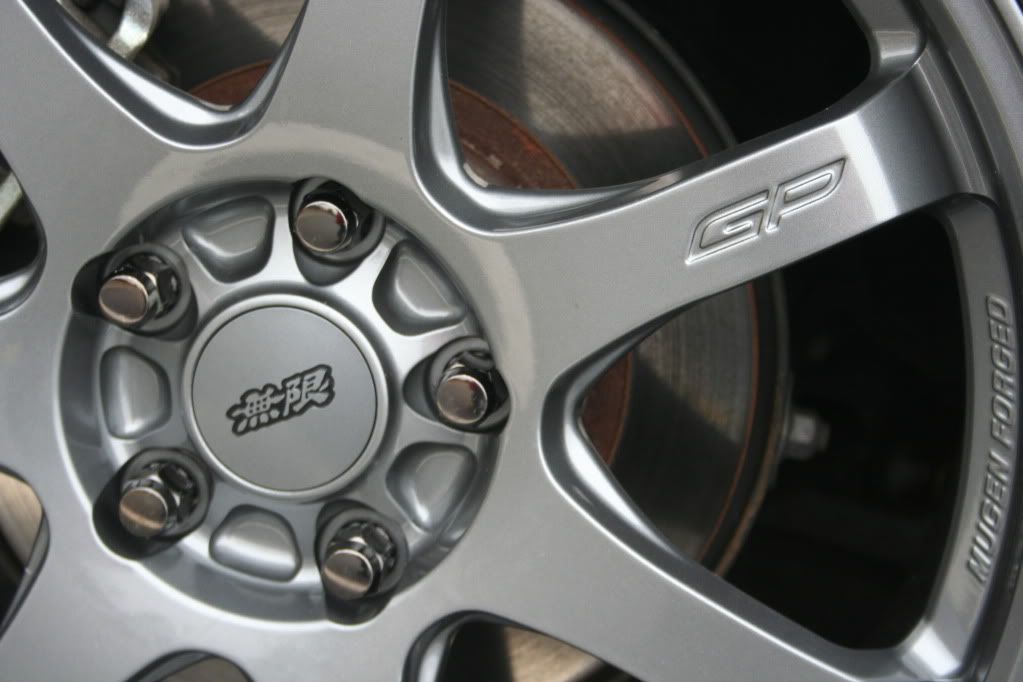 -GT
---
2008 Accord Coupe EX-L [2.4L I4 - 168fwhp]
LEDGLOW Expandable 7-Color Interior Lighting Kit | Blue LED Map and Dome Lights | V6 Lip Spoiler | Debadged | Mugen GP Wheels 18x7.5 16.5lbs [ON/OFF] | Falken Azenis RT-615 Tires [225/45R18] | Mugen Wheel Locks
Wish List: BC Racing Coilovers | Black Window Trim | Exhaust (GReddy SE or Custom) | OEM Fog Lights