1st Gear
Join Date: Jun 2014
Posts: 22
Thanks: 0
Thanked 4 Times in 4 Posts
Quote:
Where can i get the front lips?? Pm me.
Thanks
RonJon lip. discontinued
| | |
| --- | --- |
| The Following User Says Thank You to Chanathon For This Useful Post: | |
2nd Gear
Join Date: Mar 2014
Location: West Jordan, UT.
Posts: 59
Thanks: 6
Thanked 7 Times in 7 Posts
1. Konig Oversteer
2. 18x8 5x4.5 +35 on 235/45R18 Goodyear Eagle LS2 tires.
3. Opal
4. $200ish per wheel.
You guys think I need to lower my car or nah?
---
Well done is better than well said.

2004 Honda Accord EX-L w/ Navigation I4 AT in that blue-gray stock color. 18x8 5x4.5 +35 Konig Oversteer Opal Finish. Want to buy them?
2005 Acura MDX for the wife.
2nd Gear
Join Date: Jun 2014
Posts: 71
Thanks: 39
Thanked 4 Times in 4 Posts
Nice ride- How are the A/S tires coming along and also how's the ride?
I'm thinking of getting a set, but size of 235/45/18 wrapped around some Drag DR-34 Gunmetal wheels. Any recommendations and/or differences between a 245 vs. a 235?
Any suggestions are greatly appreciated. Thanks!!
Timing is Everything..
Join Date: Jul 2014
Location: NAS Lemoore, CA
Posts: 131
Thanks: 78
Thanked 44 Times in 35 Posts
Quote:
GF7-Silver MRR wheels-Groundforce.
19x9.5 et35 front
19x10.5 et25 Rear

Continental DWS:
235/35 front
265/30 rear

lowered on BC BR coilovers
SPC 3arm camber kit
Progress 22mm sway bar
WOW that is a beautiful car..
18" Bronze HFPs on Continental 235/40/ZR18
20mm Ichiba Spacers in the rear
Love it!!
---
2003 V6 5AT Sedan
18" Bronze HFPs on Cont. 235/40/ZR18 | AEM CAI - ThermoShielded | ThermoShielded Rad. Hoses Upper/Lower | Sylvania 8000k Lows | PrimeChoice Ceramic Pads | PrimeChoice Premium Rotors, lube those caliper pins! | 20mm Ichiba Rear Spacers | Debadged and Dipped Emblem| 1000W Kenwood/Kicker Audio | 35% Full Tint | Leather Conditioned with the Tears of St. Christopher
Female Driven
Join Date: Jun 2012
Location: Mira Loma, California
Posts: 88
Thanks: 7
Thanked 5 Times in 3 Posts
Work Wheels Japan/ Avant Garde Collaboration Wheel M560
F: 19x9.5 ET20/ R: 19x11 ET18
Dolphin Gray with Polished lips
Price: Unknown
http://avantgardewheels.wordpress.co...ation-ag-m560/
---
Matte White 2009 Honda Accord Coupe- RIP
Southern California Chapter Member
Photographer for Hotheadz Media
www.hotheadzmedia.com
Something Cliché Here
Join Date: Jan 2016
Location: NY
Posts: 537
Thanks: 3
Thanked 59 Times in 59 Posts
Niche Ritz 19X8.5
35 Offset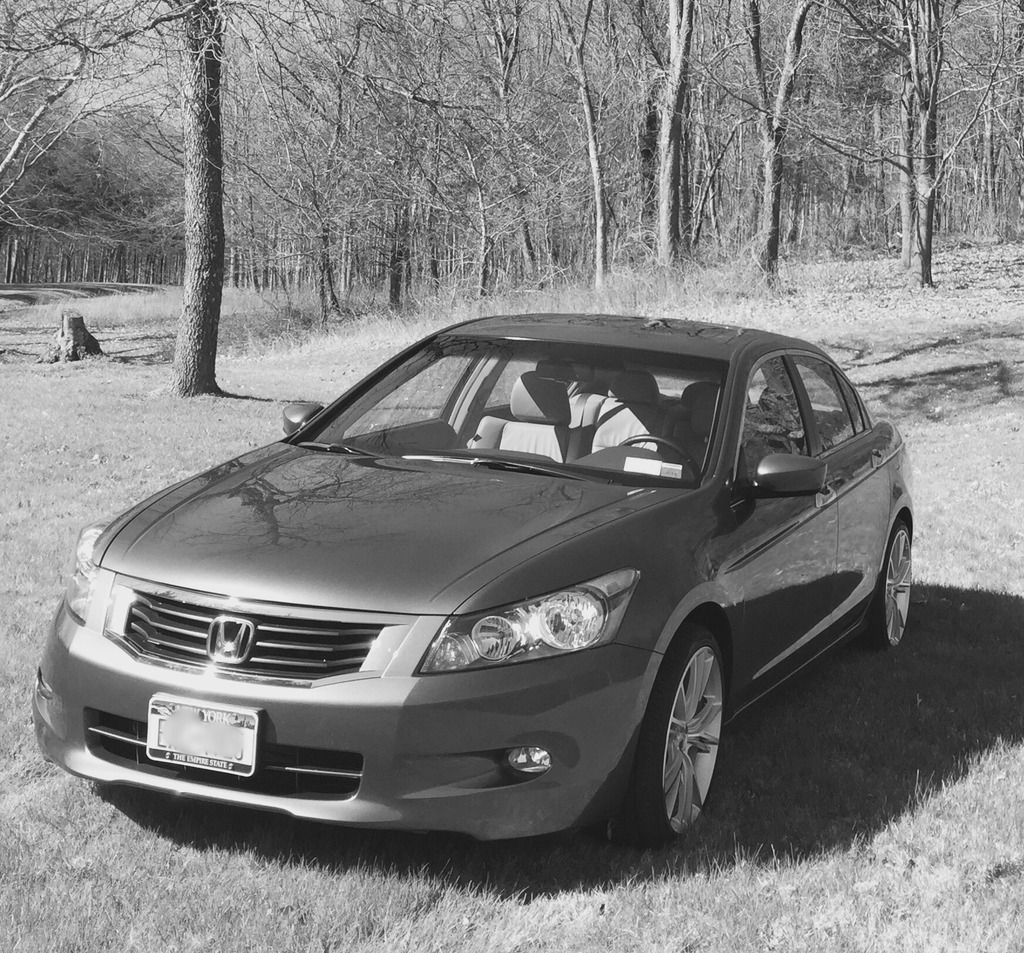 ---
2008 Accord EX-L V6 w/Navi.
HID Low's
LED Fogs
Light Smoked Tails
Sport Spoiler
19x8.5 +35 Niche Ritz Wheels
LED Interior

My First Post
Join Date: Apr 2016
Posts: 1
Thanks: 0
Thanked 0 Times in 0 Posts
Where did u get those wheel? I have been looking for those wheels and is giving me a hard time lol
1st Gear
Join Date: May 2016
Location: Delco PA
Posts: 3
Thanks: 0
Thanked 1 Time in 1 Post
Silver Ghost II
Join Date: Feb 2012
Location: Paramount California
Posts: 25
Thanks: 2
Thanked 2 Times in 2 Posts
1. Manufacturer name: RoadForce - RF-15
2. Wheel size, offset 20", 8.5" Front. 10.5" Rear
3. Color finish: Silver/Grey
4. General Price if known: $995 - Staggered