2014 Accord 2.4L Starter Replacement at 60k mi
---
Over the past month i've had a no-crank, no-start issue that worsened over time. started out with 9 out of 10 times getting crank. a month later it was 9 tries before crank.
issue was as follows: insert key (factory keys, tried all of them), turn to run and all dash lights/radio/accessories came on. turn key to start and you could hear the solenoid click, and ignition voltage was lost, but voltage at the constant cables was maintained (with some voltage drop) - but no crank. repeat attempts to start until actual crank. once crank - it fired up fine.
what i evaluated: i started by evaluating the aftermarket remote start. all connections soldered by myself and no wiring was cut. i removed power from the alarm system to eliminate an immobilizer signal issue and the problem remained. i checked connections at neutral/safety switch and gear position switches - no changes. immobilizer MIL was never illuminated at the dash.
i took the car to the dealership at 58k mi and they confirmed the starter was bad. they wanted $650 for parts and 2 hrs of labor for $950 total.
I bought a salvaged starter for $90 (from a wrecked 2014 2.4L).
Used Honda, Acura, Lexus & Toyota Parts - Auto Wreckers Recyclers, Dismantlers & junk yards - Home
Entire job took an hour, including lifting the car onto jack stands, disconnecting battery connections, etc.
Tools:
14mm socket with extensions
10mm socket
pliers (for removing harness clip)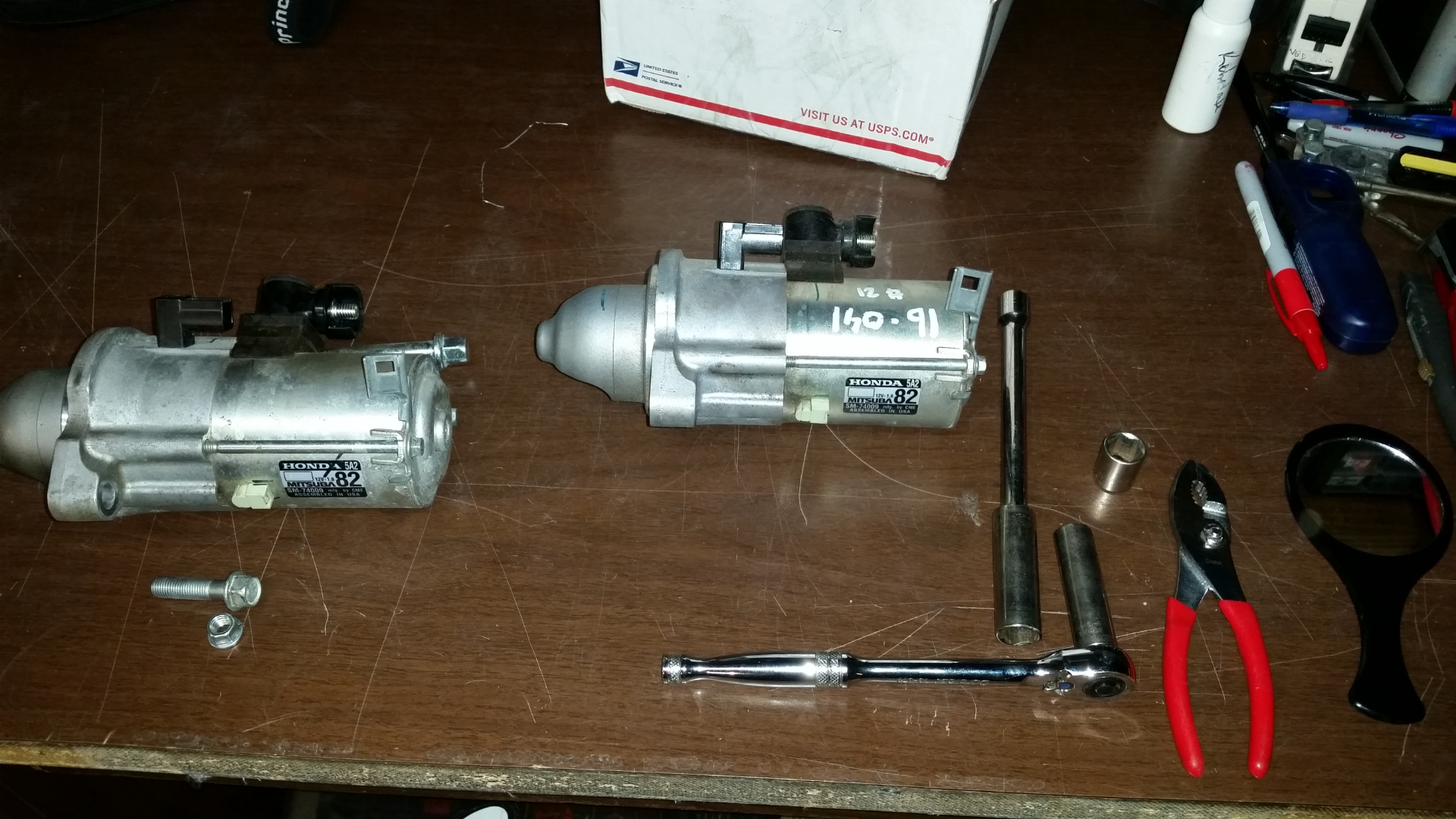 Steps:
- disconnect battery terminals with a 10mm socket.
- put wheel chalks on rear tires and lift car to place on two jack stands (one on each side). lift high enough to have a few inches between tires and ground/floor **i added another pair of jack stands under front suspension for insurance.**
- slide under car and position yourself under the rear of the motor.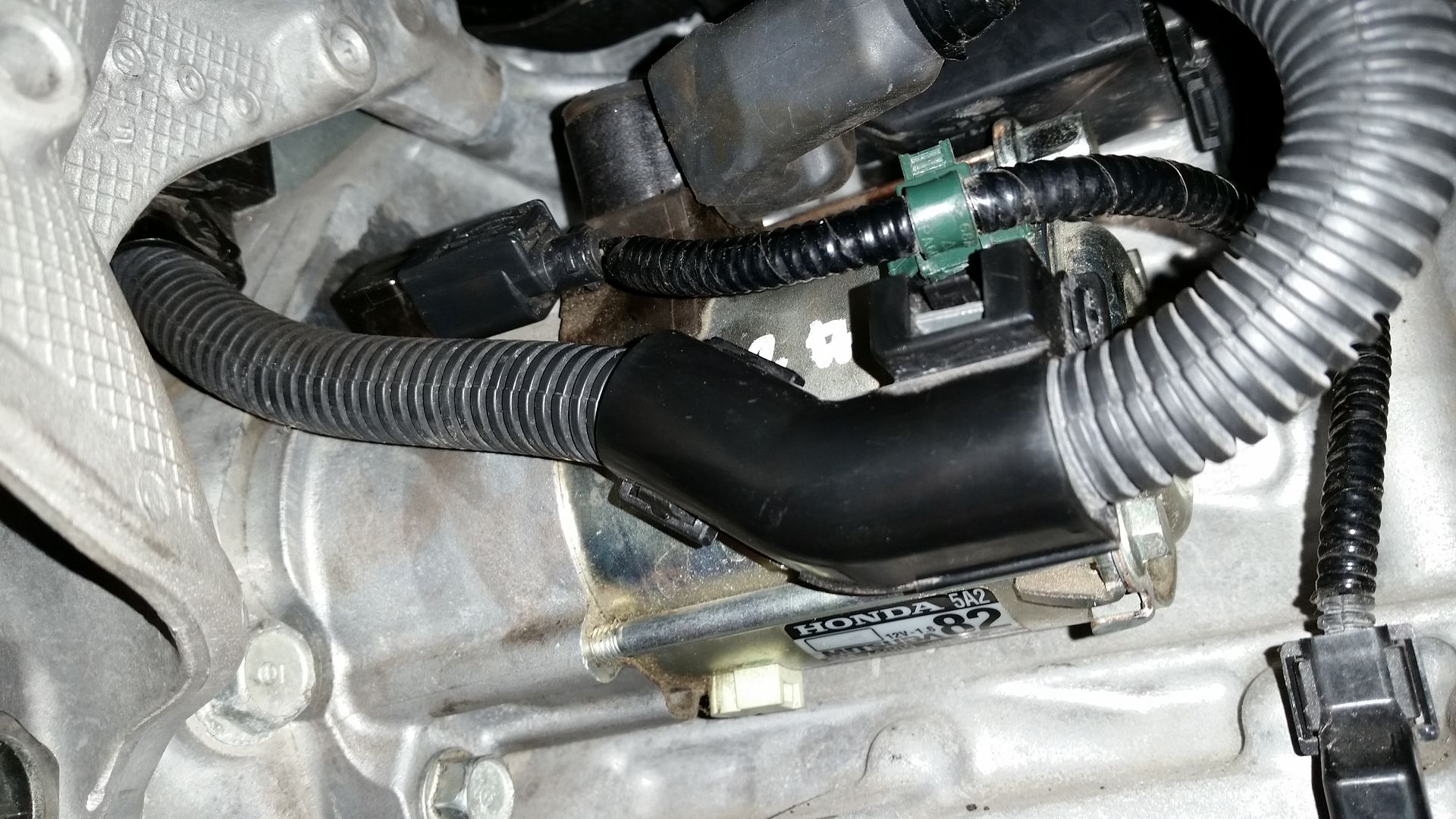 remove the wire harness clips first. a standard 2-wire clip is on the starter. the large black clip has a top release and slides off the metal tab. the green wire clip is best pried closed from below (hence pliers being on the list). a 10mm bolt holds the power wire on the starter (this can be loosened after you pry the rubber boot back - and can be done after the starter is slid out).
you can see the starter location in this photo - bottom left: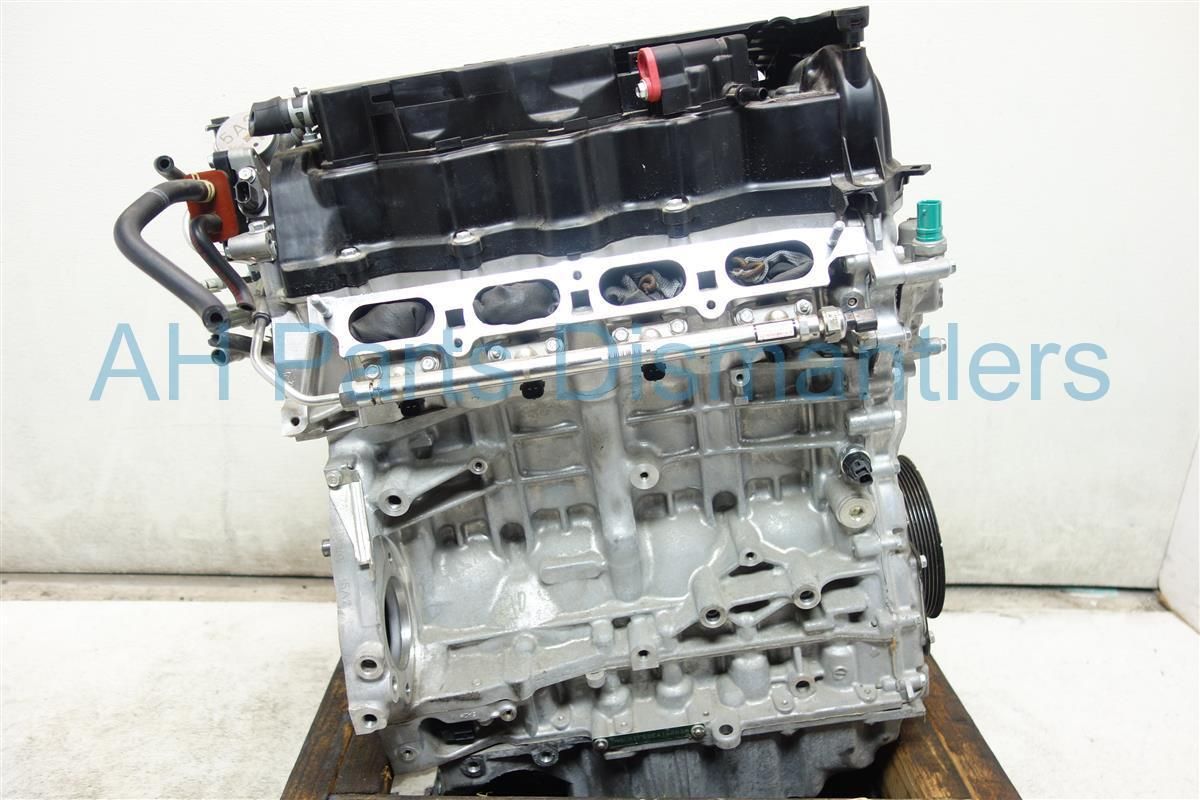 There are two 14mm bolts holding the starter on. Both are accessible.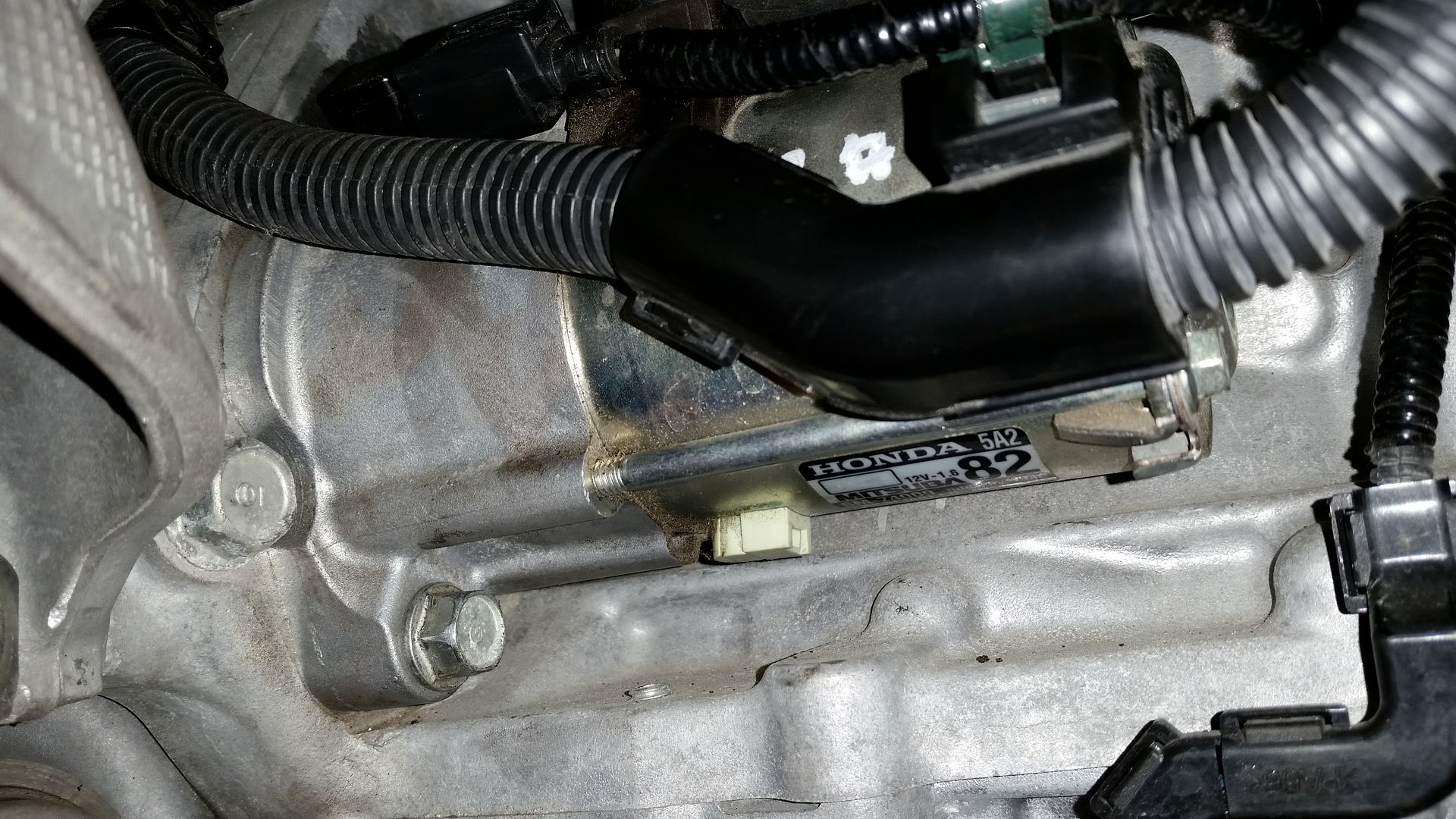 The rear bolt has a long shaft extension so it is accessible with a standard socket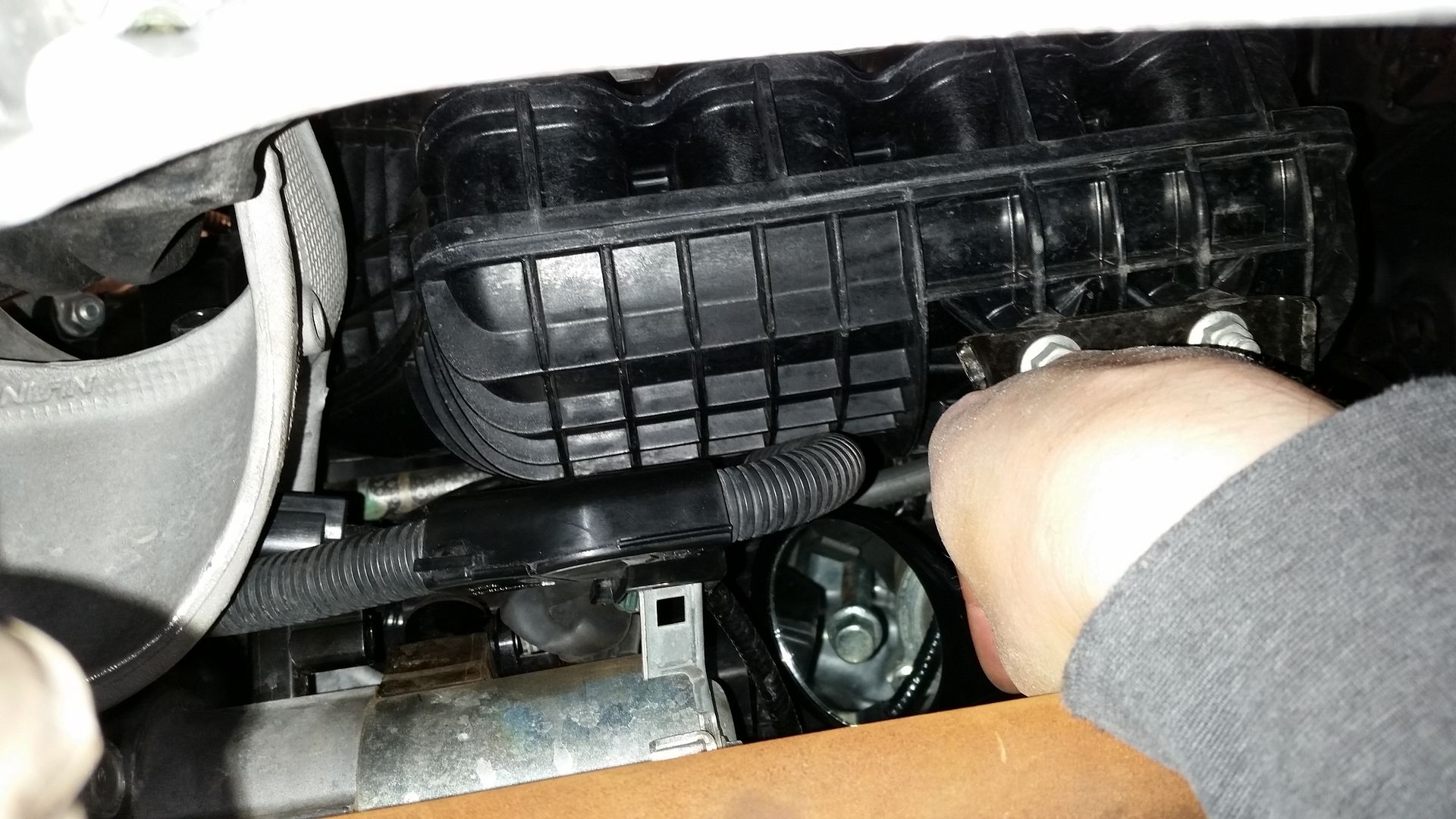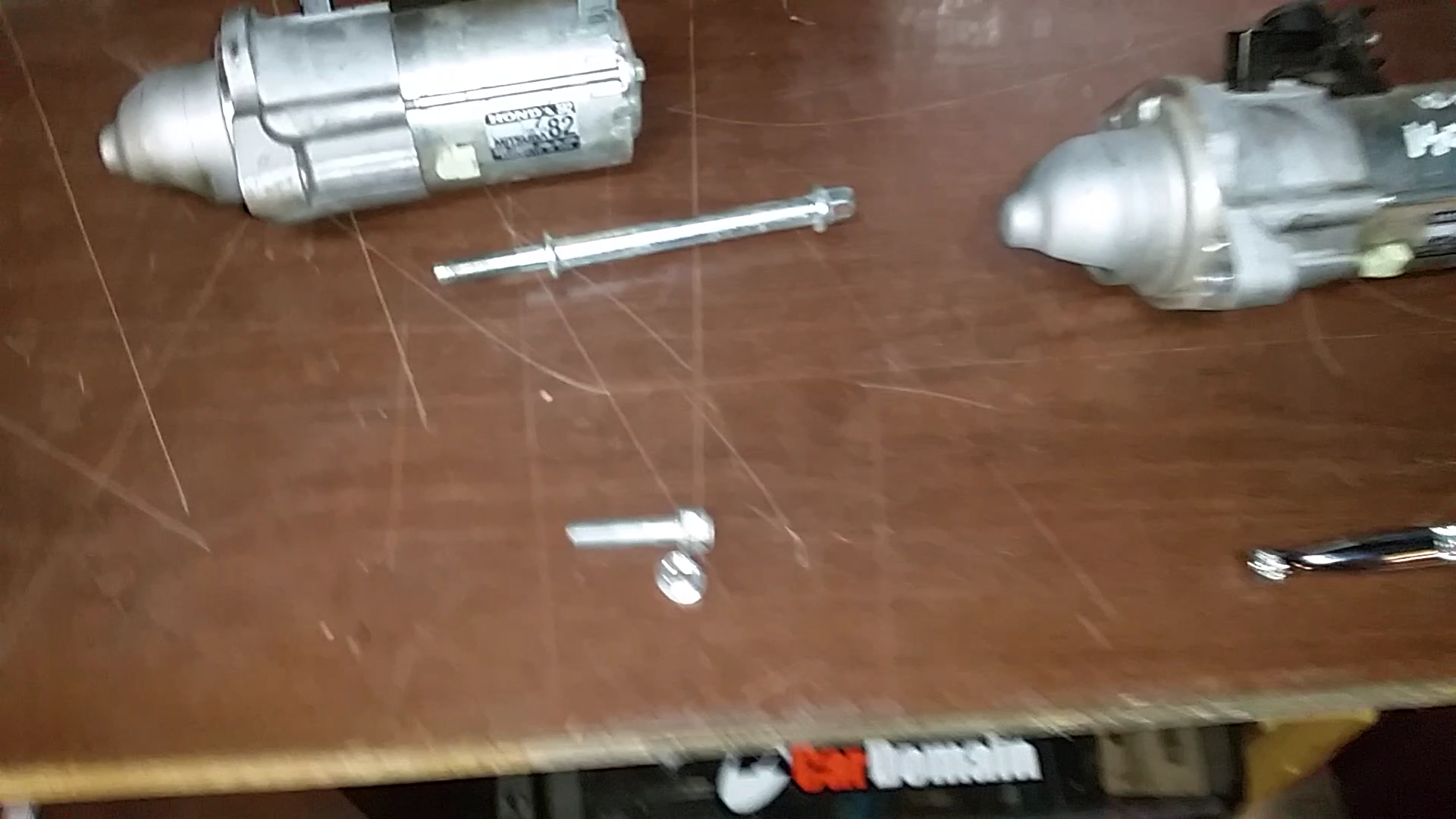 after removing both bolts completely - the starter slides out easily. at 58k mi. i didn't have any issue with loosening the bolts by hand, with a standard ratchet and arm strength.
view after removal of the starter
installation is reverse of removal. you can connect the positive terminal before final placement, or do it last.
a video link is here, i discuss the bolts:
http://vid38.photobucket.com/albums/...509_224109.mp4
later, i will disassemble the failing starter to investigate what is going on. OEM part cost is $350 but we can buy internal parts for very cheap. i'll rebuild the stock starter so i have a backup.) i'll detail the rebuild when the time comes.
6th Gear
Join Date: Sep 2014
Location: Capital District, NY
Posts: 1,887
Thanks: 123
Thanked 150 Times in 132 Posts
Well done but $950, that about the cost of an extended warranty. On the older K24's the intake manifold had to be removed to access the starter. A friend of ours had this issue and Honda wanted like $1300 to do the job and she went elsewhere for like $800.

Do you think that the mods contributed to the failure?
Don't drink and drive
Join Date: Aug 2014
Location: Asheville, NC
Posts: 3,311
Thanks: 225
Thanked 277 Times in 257 Posts
Good job avoiding the stealership.

P.S. Your avatar is creepy.
---
2005 Honda Accord V6 LX - 166k
2013 Hyundai Santa Fe Sport
2015 Rocky Mountain Soul (Runs on fat)
2005 Toyota Corolla
2011 Ninja 250R
2006 Cadillac CTS
1999 Nissan Altima

"Ordinary people have big TVs. Extraordinary people have big libraries." - Robin Sharma
Out of Control
Join Date: Jan 2013
Location: Dayton, OH
Posts: 2,405
Thanks: 163
Thanked 384 Times in 270 Posts
$950 for the dealer to replace a starter on an Accord? That is ludicrous!

It's great that you could do the job yourself and save lots of money.

Unfortunately, most owners will be ripped off by the dealer.
---
2013 Accord Coupe V6-6MT MSM
Wouldn't it still be under warranty at 58k miles. Or do they consider the starter not part of the drivetrain.
---
'13 Alabaster Silver Accord EX Sedan I4 6MT
'07 Graphite Accord SE Sedan I4 5MT
'90 White Integra RS Hatch I4 5MT
Quote:
Wouldn't it still be under warranty at 58k miles. Or do they consider the starter not part of the drivetrain.
Nope, powertrain is internals and seals only.
---
2014 Honda Accord Sport
2007 Ford Crown Vic
2008 Honda Civic Si
2008 Nissan Frontier SE
2007 Honda CBR 600RR
2006 Honda CBR 600RR (wrecked)
2005 Toyota Tundra
2003 Chevy S10
1996 Honda Civic EX
1992 Honda Accord LX
1989 Dodge Ram 1500
1983 Toyota P/U
1985 to 1996 Several bicycles and skateboards
I was close to attempting this job but my car wouldnt start-up about a month ago while out with my wife and kids. Had to get it towed and the dealer wanted over $900 but i got it done for a little over $800. I was upset knowing i could have done it myself but i missed one day of work and needed it done.
Glad to see you were able to get it done and it should help a lot of people with faulty starters.
I've wrote it up on carcomplaints and national highway safety admin. Hoping enough people complain and we can get it recalled. Everyone who paid for a new starters can possibly get their money back from honda.
Extended Warranty FTW. This is covered by Honda Care as "electrical"
---
2015 NH797M CT2 J35Y1V6
Out of Control
Join Date: May 2008
Location: Dallas Texas
Posts: 5,216
Thanks: 13
Thanked 462 Times in 371 Posts
Thanks for the info. Luckily, I have a great independent mechanic at the end of my block. He is an excellent diagnostician and is his prices are reasonable. Once my car is out of warranty he will be my go to guy.
---
2013 Accord Coupe EX-L San Marino Red
2015 CR-V EX Urban Titanium Metallic
2007 Fit Sport Silver 65,000 miles and going strong.
Previous Honda: 2000 Accord Coupe, 1994 Accord Wagon Red, 1988 Prelude White 5 speed manual, 1981 Accord 4 Door Ivory 5 speed manual
Previous Cars before Honda: 73 Mazda RX2 manual, 63 VW Bug manual, 63 Alfa Romeo 2600 Spyder manual, 70 Toyota Crown manual, 59 Vauxhall Victor manual (worst car ever produced, a pre Yugo, Yugo)
Would you say buying the salvaged starter was worth it? How's it holding up?
1st Gear
Join Date: Apr 2016
Posts: 2
Thanks: 0
Thanked 0 Times in 0 Posts
Had the same issue on '13 Sport. Ordered salvaged starter from the link that Keep_Hope_Alive provided. Got it for $92 total. Installed the salvaged starter. Problem solved. Checked with the dealer and they wanted $520.09 just for the part.

Have owned Accords since 1994 and never had a starter go bad.
5th Gear
Join Date: Mar 2012
Location: 14AcdExCVT4
Posts: 781
Thanks: 19
Thanked 55 Times in 52 Posts
Thank you for sharing. Nice write-up.
5th Gear
Join Date: Jun 2015
Location: Nebraska, The Good Life
Posts: 929
Thanks: 2
Thanked 62 Times in 57 Posts
My old 1985 Toyota MR2 killed starters at 50k miles almost like clockwork. I never put a new one on as they were silly expensive and I could get good used ones for $50. That was the only salvage parts I ever used on that car in 25 years of ownership. Other than the starter, the car as a whole was amazingly reliable (278k in 25 years), I never even replaced the clutch in it and it still ran and drove great when I sold it. Never understood why the starter was such a weak point or why the starters were so darned expensive, even rebuilt ones from the corner parts stores were almost as expensive as new. And the starters never gave a clue that they were getting weak, just didn't work when they finally broke. Lucky for me, the car was super easy to push start by myself since it weighed so little.