·
Mod it or don't drive it
Discussion Starter
·
#1
·
The following is a list of items which I recommend for completion of the big 3 upgrade, and some helpful hints for those looking to perform this mod. For a more comprehensive video on how to perform the mod itself, see caraudio 101 big 3 on youtube.
I recommend going with oxygen free copper (OTC) 0/1 gauge wiring. Do not settle for cheap copper clad aluminum (CCA)
Kicker
Stinger
Knu Konceptz
Tractorysupply
all these places carry OTC wiring.
Things you will need:
4 ft of red OTC 0/1 gauge cable (I recommend Knu Kolossus Kable from amazon)
5 ft of black OTC 0/1 gauge cable
2 black 0/1 guage ring terminals and 1 red ring terminal like the ones seen
here.
2 black ring terminals with a bigger diameter than the seen above. For these bigger ones, I recommend the Scosche seen
here
Crimping tool as seen
here
Another option is to solder to the terminals. Search "How to Solder battery terminals" for a good video on this.
If running 0/1 wire back to your amplifiers, you will need a battery terminal that has 4 inputs, of which 2 slots accept 0/1 gague, and of which 2 accept 4 gauge, as the stock wiring leading to the positive battery terminal consists of 2 separate lines of 4 guage.
As always when working with electrical, disconnect the terminals from the battery before doing anything.
Connection points
Block to chassis: I used this connection point on the block as seen here:
From the block, secure it at the strut bolt as seen here AFTER removing the paint around the bolt. Sand it down to bare metal to ensure a good ground connection point.
The other line from the strut bolt goes to the battery:
You will need to cut the factory wire on the + battery terminal, which will leave you with 2 separate 4 guage lines to insert into the new battery terminal. You can't see them in the pic here, but they are in-between the 2 red wires. I
DO NOT
recommend going with the Rockford terminal, as it only accepts 0/1 and 8 gauge and you will have to trim down the factory 4 gauge to fit this terminal. I will be purchasing the correct battery terminal that accepts 4x0/1-4 inputs, and will extend the factory 4 gauge wiring by soldering on an extra 6in of 4 gauge wire to it, which will make for a better connection point.
From the terminal, run the wire to the alternator. You will need to trim the terminal so that it fits on the alternator bolt as seen here: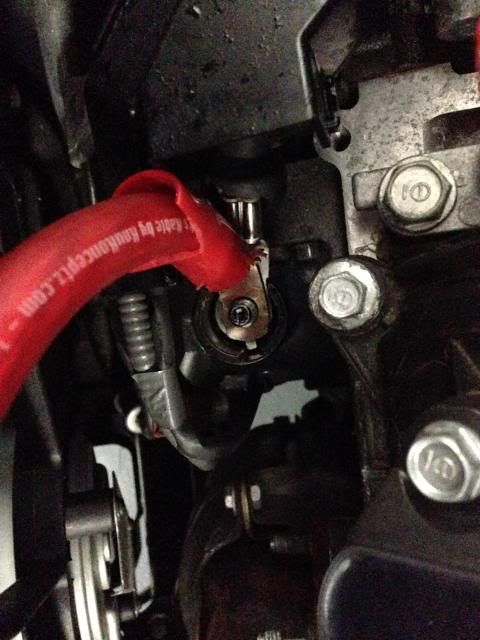 Secure the power cable to the fan using a zip tie to keep it out of the way.