Discussion Starter
•
#1
•
I just finished installing my new LC2i(line out converter) so I thought why not make a DIY for those who are having trouble or planning to install a aftermarket sound system. Assuming you guys already have an Amp Wire kit, Line Out Converter, Amp and Subwoofer.
Caution: I AM NOT LIABLE FOR ANY DAMAGE IF YOU ARE INSTALLING IT UNCORRECTLY.
Step 1
Run your amp power wire from your battery to a fuse(dont connect wire to battery terminal until everything is installed). From the fuse, go through the pre-drill firewall hole. You got to located the firewall predrill hole. There is a black circle tab plugged in the hole. Use a small flat head screwdriver to pry it out. I used that same tab, drill a hole in it and ran the amp power wire through it or you can go buy a rubber grommet and run the wire through it.
Step 2
Under the steering wheel near the gas pedal, pull the amp power wire(the wire you stuck through the hole from earlier)and run it through and under all the way to the trunk and into the amp.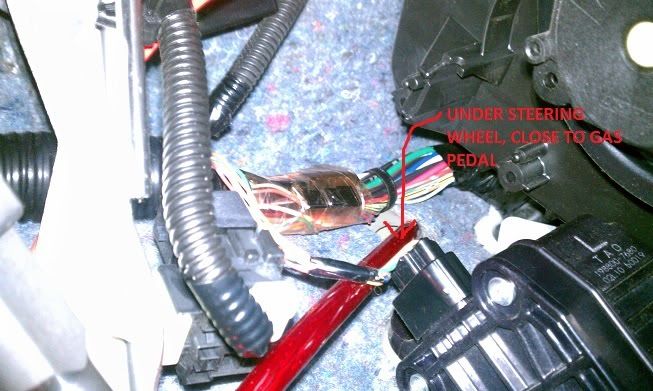 Step 3
Now for the Amp Remote Wire, I connect mine to the accessory slot in the fuse box under the steering wheel using this thing called Bussmann BP/HHH ATM Add-A-Fuse. You can buy these at any autopart store. Now, run the wire along the passenger side through and under into the trunk and into the amp.
Step 4
Now, install everything together. Look at my diagram. Super sorry for the ugly diagram. This is just the basic amp, subwoofer and loc(line out converter)installment. LC2i require different method. Factory Headunit dont have RCA's so you have to use a LOC(line out converter). You tap into the rear speakers, from the speakers go to the loc, from the loc comes out RCA to the amp.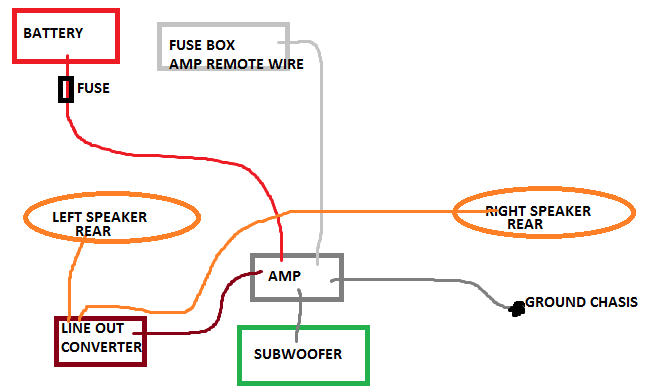 Step 5
Have Fun listening to your new sound system