Discussion Starter
•
#1
•
I just bought a 2003 Honda Accord LX 4cyl with a manual transmission. I had no idea what fluids had been changed when, so I'm in the process of changing most of them. I haven't seen a DIY for a manual transmission fluid change on these boards so I figured I would do one because it is so easy! I called the dealership around here and they said it would be $80. I was able to do it myself for about $30 and having never done it before it only took me about an hour. I'm pretty sure this applies to all 4cyl 7th gen accords with a manual tranny.
First of all, just to make things easier jack up the front driver's side of your car and remove the wheel. Remember to loosen your lug nuts a little before jacking the car up. You can easily see the fill and drain plugs with the wheel/tire removed if you know what you're looking for. Below are some pictures to help you out.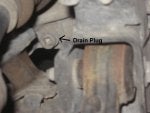 Drain Plug up close
Drain Plug looking over the rotor so you can get an idea of where to look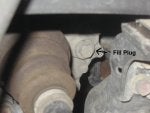 Fill Plug - if you are looking at the drain plug from the wheel well, the fill plug is located up and to the right of it about 6 inches.