Step 1: Removing the OEM Exhaust
Step 1: Removing the OEM Exhaust
I completed this section of the installation by working from the catalytic converter backwards towards the mufflers. You will need at least one person to help you throughout the course of the installation to hold the exhaust in place while you remove and re-install the exhaust pipes. I would highly recommend you and anyone helping you wear a pair of Mechanix gloves or similar because the pipes will be hot, especially around the cat, and you may cut yourself (like I initially did) handling metal with sharp, machine-cut, edges.
Using the 10mm Socket, disconnect the negative battery lead from your car battery. This will automatically reprogram your car's computer with the Magnaflow installed when you reconnect it at the end.


Using the 10mm Socket, start by removing the 4 nuts securing the catalytic converter heat shield.
Use the 14mm to remove the 3 nuts connecting the down-pipe to the cat.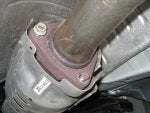 Remove the rubber flange securing the forward-most section of the exhaust pipe.


Work your way down the exhaust pipe, using the 14mm socket to unbolt the pipe from from the mufflers. (This step is optional. You don't have to remove the mufflers from the down-pipe to uninstall the whole exhaust, but you may find it easier to manipulate in terms of weight and space.)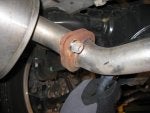 Remove the mufflers from the rubber flanges attaching them to the underside of the car. There are two for each side.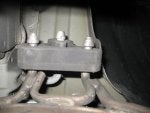 At this point, the entire OEM exhaust system from the catalytic converter back to the mufflers should be removed. Time to install the Magnaflow! :banana: