Discussion Starter
•
#1
•
Well, folks, I finally did it. I have a TSX switchblade key that is fully functional with my 09 Sedan.
I know there were a few of us out there interested in getting the switchblade key working with our sedans, but the intrepid souls that pioneered the effort had a few mishaps. JayKnight apparently had his working, but we kinda had a hard time getting photos and details on exactly how he did his mod. Marc tried his hand next (and much of the information I had came from his effort) and hit a snag with the trunk button sitting too high on the circuit board. So, I've put together this DIY to help out those who would like to try their hand at getting the TSX switchblade key to work.
For reference, the two threads below are where I gleaned most of my information:
Initial Thread
Marc's TSX Thread
DISCLAIMER
The following modification will possibly cause irreversible damage to your factory Accord key. Only attempt this modification if you are reasonably comfortable with soldering and have a fair understanding of electronics. Proceed at your own risk!
There. That oughta keep out the riffraff. Let's move on.
The first thing you need to do is procure an 09 TSX key. I got mine from Acura of Peoria's ebay store for $27. Good guys, and they shipped it out quickly. The 'Mem 2' key will be cheaper than the 'Mem 1' key, and since it has no bearing on our cars, I went with the cheaper one.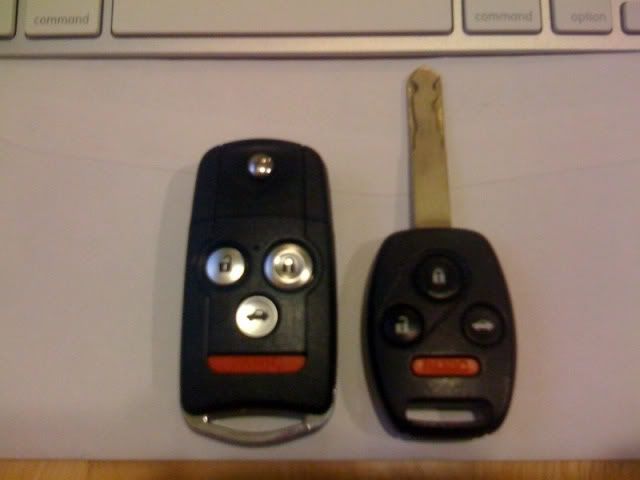 Next, take it to your dealer and have them cut and program the immobilizer chip for you. Now, JayKnight and Marc actually removed the TSX key's immobilizer chip and tried to use the one that was already on the circuit board of our Accord key, but this didn't work out too well. Just have them cut and program the key. I had mine done for $45, but at first they quoted me $100. Talk 'em down and get it done cheaper, if you can. Now you have a key that can actually start your car. Neat.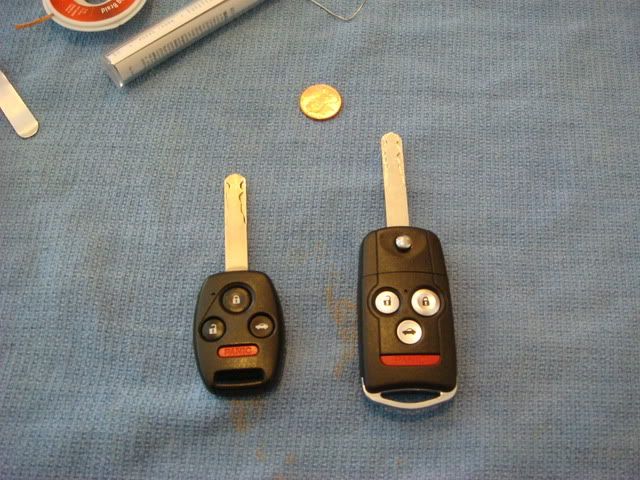 Now you need to get your stuff ready, as you'll be doing some soldering. Before I thought about attempting this mod, I'd never soldered anything before, so I got myself a soldering iron and an old circuit board and practiced a bunch.
Here's
a tutorial I found online that was immensely helpful. Here's my setup: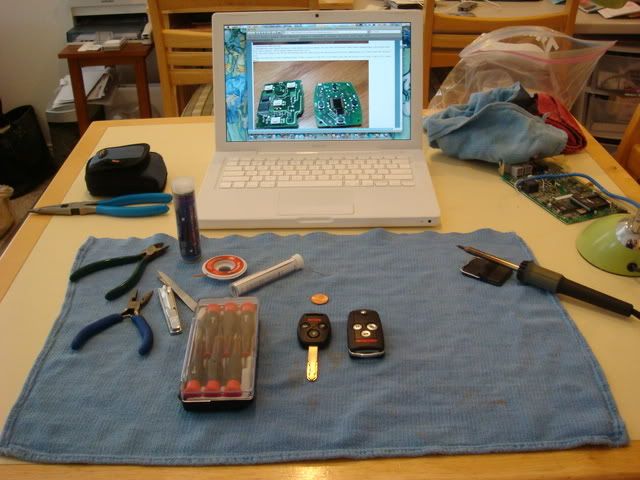 You'll want some copper braid and a good pair of tweezers. Some tiny screwdrivers and a dremel tool also come in handy as well. Also one tool I found to be indispensable was a pair of fingernail clippers. Perfect for trimming wires and removing excess solder.
So, you'll want to open up both your keys and remove the remote portion.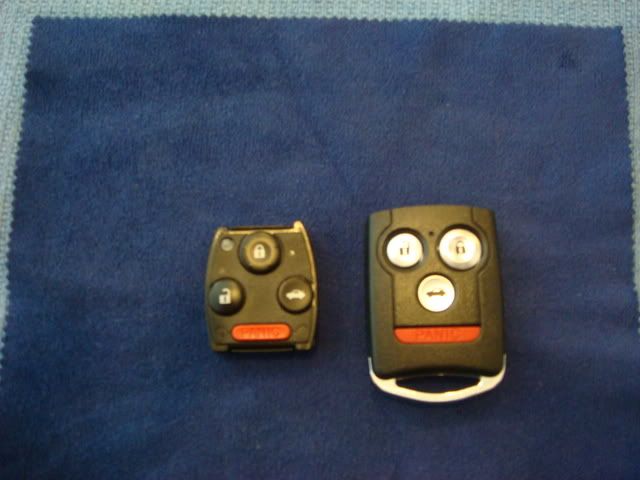 Once you do that, separate the two halves of the remote and open those up.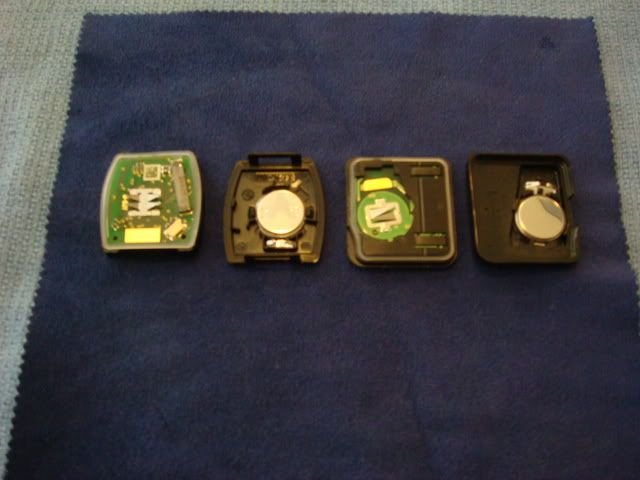 Remove the circuit boards and the little silicone-covered buttons and set them aside.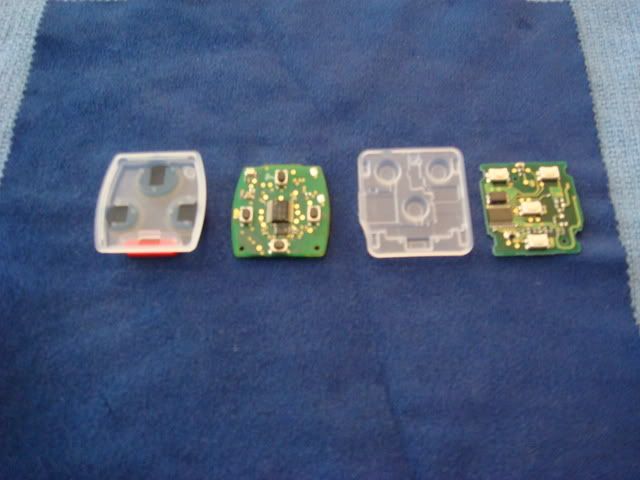 Now you're left with the two circuit boards.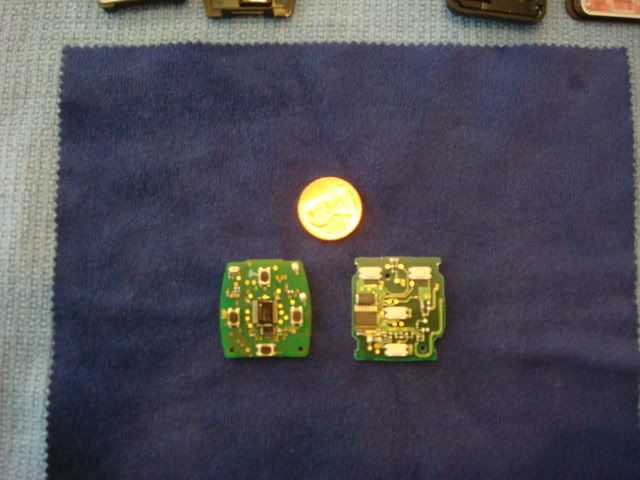 The first thing I did was to modify the back of the TSX remote case (the side with the battery) to accept the Accord circuit board. In so doing I had to cut a slot out of the case to accommodate a rather large chip on the back side of the Accord's board. Also I removed the positive leads for the battery, because they don't match up with our new circuit board. I just trimmed the leads with my nail clippers and used my dremel tool for the opening in the back of the case. When done, it should look like this: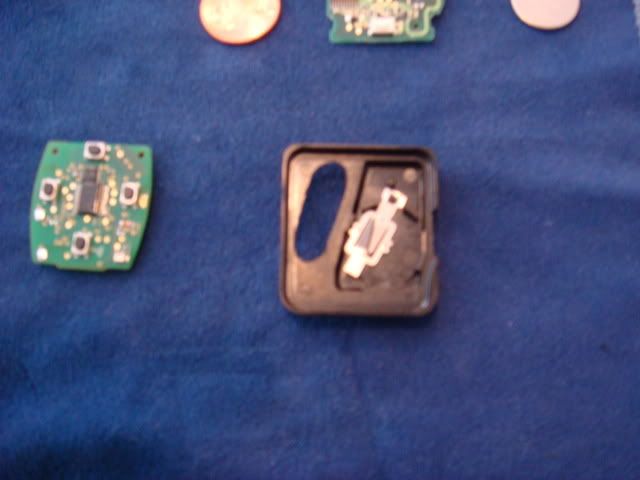 When you put it back together, it will look like this:
You can see how we needed to make room for that chip.
Now comes the hard part. Obviously the buttons for the Accord remote aren't in the same place as the buttons on the TSX remote, and therefore need to be moved. Here's a picture from Marc's thread that illustrates where the buttons need to go: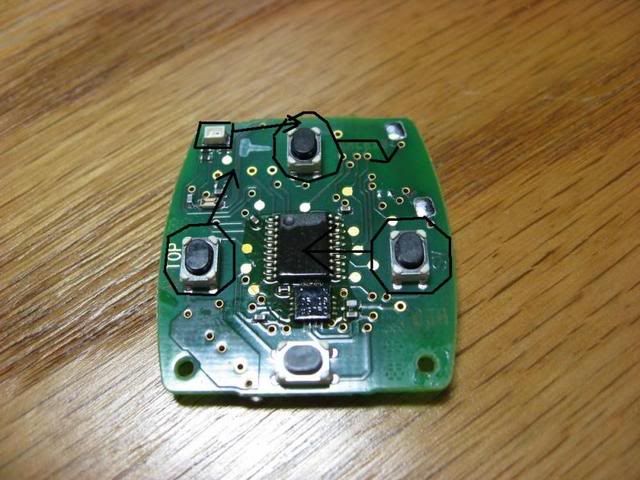 Now, the first thing I did was to remove the LED from the top left-hand corner of the board. It gets in the way of where you need to place one of the switches. Marc actually tried to re-solder his back on, but the thing was so damn tiny and waaaaay beyond my skill level that I just removed it and forgot about it. See how tiny it is?: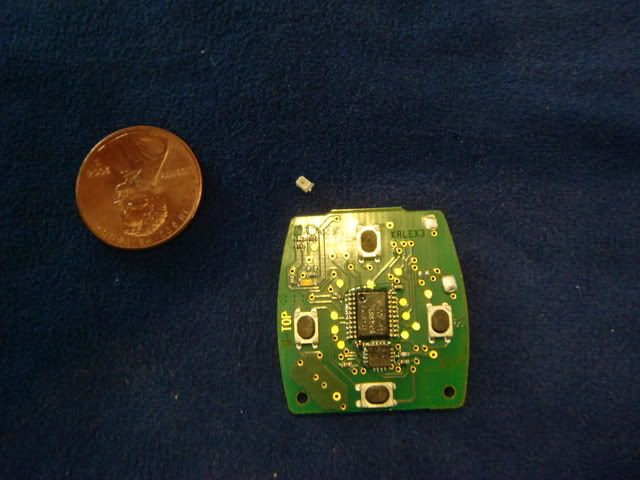 Anyways, so now you need to start de-soldering those tiny switches and moving them to where they need to go. I used wrapping wire for mine, because everything else was too big. Go slowly and do it one at a time. For me, instead of trying to re-solder such tiny wire onto little surface contact points on the board, I just looked for little holes that were linked to the contact points. This made it easier to solder, because you just poke the wire through the hole, bend it, and solder it on the other side. Here is what JayKnight's looked like when he was done: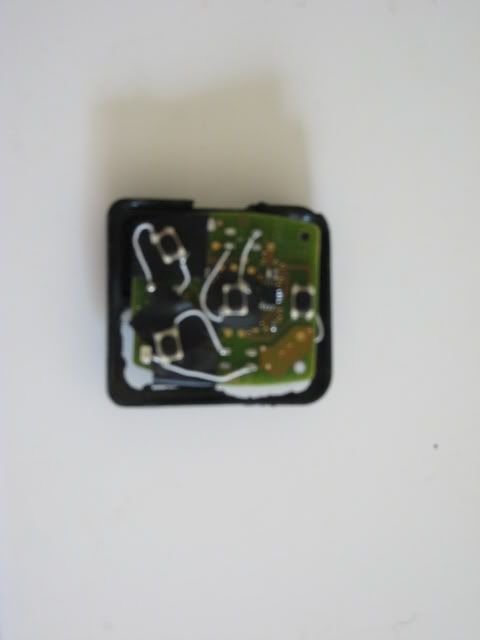 And Marc's: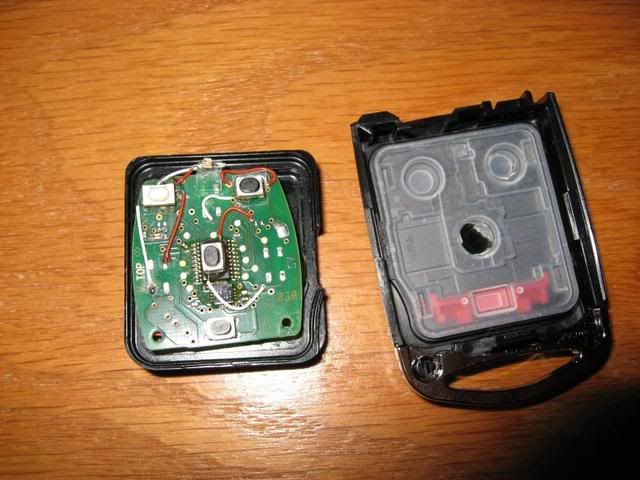 And Mine:
It ain't pretty, but by God, it works.
Now This Is The Important Part:
Marc had trouble with his key conversion in that the switch for the trunk sat too high up atop that chip in the middle. When he would try to put the key back together, it would press down on the switch and open the trunk. To get around this I used one of the switches from the TSX board because they're about half as tall as the ones on the Accord key. You'll still need to cut out a tiny bit of the silicone inside the trunk button portion, like we saw in Marc's picture above, but using this thinner switch made it just low enough to work.
Next you need to test the buttons. Actually I tested mine each time I soldered a new switch. I would just hold on the back of the remote from the Accord key (so the contact points were all touching) and go outside and give it a try. After that, it's just a matter of putting some tape under the buttons so they don't short out and placing them where they need to go. This requires a bit of trial and error, but I found it easiest to place the TSX silicone button-thingie over them and try to weasel them into place.
As for the battery, you'll need to solder a wire from the positive contact (under the battery) to the circuit board. Here's how JayKnight did his, and mine looks exactly the same: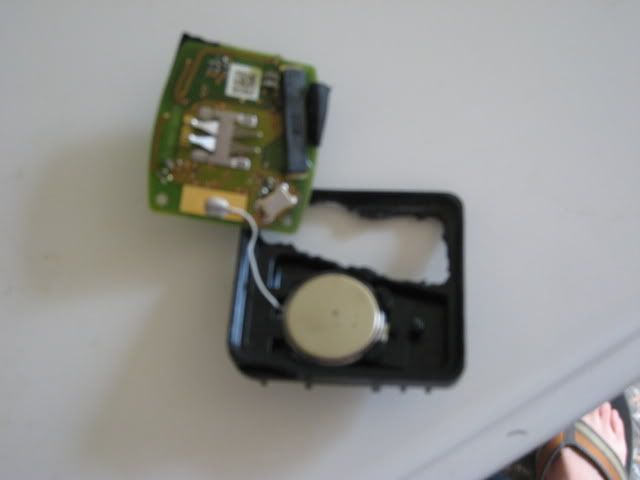 When it comes time to put your key back together, just know that the two halves of the remote won't snap back together like they used to, just because the new board is a little too thick. That's OK. Hold them together and snap the remote back onto the key like it was before, and squeeze it tightly as you re-insert that tiny screw that holds it all together.
Now, it probably won't fit perfectly the first time, or even the second. I had to play around with button placement for awhile before it all came together. As it is, on mine all buttons work well. The trunk button doesn't have much movement to it, and I have to press it harder than the other buttons, but it works just fine.
So there you have it. A working TSX switchblade key for an 09 Sedan. This mod was quite involved, and I was hyperaware of the fact that if I did the tiniest thing wrong, I'd burn up about $100 worth of kit (plus whatever it would cost me to get a new key made.) Actually doing it only took me about an hour and a half. So, to anyone who wants to give it a try, go ahead. Good hunting, and let us know how it works out. I welcome any suggestions and/or additions to this DIY, and will edit it accordingly. Also, a big thanks to Marc for his work on his own key. Without his earlier DIY, I would have been lost.