Discussion Starter
·
#1
·
I had an extra set of H11 Siverstar Ultra's laying around so decided to see if I could modify them to replace the H8's in the fog light housings. This ended up being easier than I expected. They fit perfectly with only a slight modification -- and the difference in brightness was well worth the small effort.
The H8 bulbs are 35 watts with an unimpressive 712 lumen rating. The H11s are 55 watts with a 1250 lumen rating. Initially I was concerned about the wattage difference possibly causing the wiring or the fixtures to over heat. So I did a very low-tech test of running the lights for 30 minutes and then feeling around the back of one of the fixtures for hot spots. It was warm, but by no means hot. I now feel comfortable running these as I don't believe they will cause any harm to the vehicle. However, I'm open to advice from people who know more about automotive lighting than I do.
Below are a few pics that illustrate the process. I'll try to keep it short & sweet.
The top tab on the H11 needs to be ground down to match the width of the H8. The plug ends are identical so no mods needed there.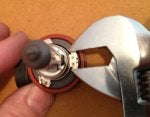 Use a crescent wrench to gauge the width of the top tab on the H8 bulb.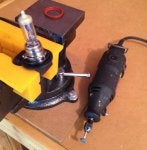 I used a vice with urethane jaw inserts to hold the H11 bulb. A Dremel with a small grind stone makes quick work of the tab alteration. Remove the rubber gasket to avoid damaging it, but remember to put it back on before installing the bulb!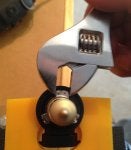 Use the crescent wrench that you set earlier to confirm the width.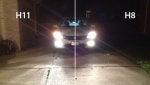 As usual the picture does not do it justice -- but you can tell that the H11 is quite a bit brighter.