Discussion Starter
•
#1
•
Hi all,
Well, after several months of research and waiting for the right deals, etc. as well as many hours of install work (and quite a bit of help)...my stereo upgrade is finally finished.
In my last car I kinda went all-out: Two 15s in an infinite-baffle setup, 7" mids in the doors (front-mounted, mind you) and tweeters mounted in the kicks, all tied together with a beast of a 5-channel amp and a Pioneer 880PRS up front. It sounded OK, but the cabin was quite an eyesore and I was never completely happy with it. I decided that this time around, everything was going to be done 'right'. I needed to make sure I could go back to stock if needed, so cutting/hacking/drilling was limited to the easily-replaceable stuff in the car. I also wanted to keep the cabin looking as close to stock as possible. The plan was to upgrade/amp the fronts, leave the rears as-is, and add a sub, along with a decent EQ.
The first challenge would be the headunit. Swapping to an aftermarket headunit is the obvious choice, but I'd have to hide it to keep the stock look, and I'd still end up with a nearly useless display up top. What to do with a goal of 'stock looking' in mind? My idea was to use an
AudioControl DQX
. This thing is pretty slick. It'll take audio signal from the stock HU, and provide a full 3-way x-over (low/mid/high) plus a 31-band EQ (the stock bass/treble controls just weren't gonna cut it, heh). Some other units (like the RF 3sixty.2) offer time-alignment as well, but I chose this one for ease of use, the fact that it'll take a balanced input, and the fact that I got a great deal on it.
I've always been a fan of single-amp systems, but if you need a 5/6 channel amp your options are limited. Many manufacturers don't offer them, if they do then the wattage on each channel isn't always optimal, and usually they are HUGE amps. If I was to power everything with a single amp, I had to make sure I could get sufficient power all around, AND it'd have to fit where I wanted to mount it. I scored a good deal on a USAmps AX5600 (used) and jumped on it. It's powering a set of
DLS Ultimate 6.5" comps
and a
12" IDQv3 sub
. This amp is rated 75x4 on the four main channels, and a hefty ~500w at 1 ohm on the sub channel, which is perfect for my setup.
The sub box is an SRQCustoms unit (original thread
here
). I had them make the sub cutout 'flushed' for a cleaner look, and I packed about 1lb of Poly-Fil (polyester fiberfill) stuffing inside. Don't get tricked into spending $10-20 or more on any of the name brands, the $3 bags from the arts and crafts section of Walmart work just fine and are probably the same exact stuff. Flush-mounting with this box isn't an option for many 12" subs (since the available mounting depth is fairly shallow at 8") but the IDQ is fairly slim, so I got away with it. The box is bracketed in from behind so it doesn't slide around in the trunk. The grill is a 2-piece unit from
Madisound
(thanks Devin!) though I had to modify it slightly so the IDQ wouldn't blow it off at full-tilt.
For a drop-in solution, the SRQ box is very well-built and a great fit. For those of us without box building skills (or a carpenter buddy) It's pretty difficult to beat for the price, IMO.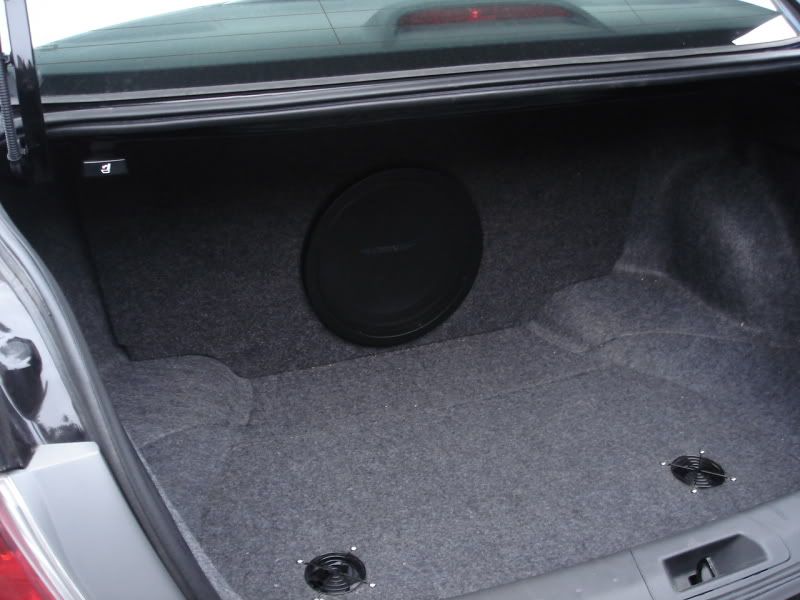 The DLS comps consist of 6.5" mid-woofers and soft dome tweeters. The mid-woofers in this particular set use a neo magnet, so they're nice and compact, and great for the shallow doors in the 8th gen sedan. I still needed a spacer to mount them properly, but they're a comfortable fit. The inner and outer door skin were treated with a combination of SecondSkin Damplifier and SDS CLD tiles, both considered among the better butyl sound-treatment mats on the market, and a WAY better deal than Dynamat Extreme. This helps the door speakers perform MUCH better, as if they're in an actual cabinet as opposed to a tin can with a bunch of holes in it. Proper door treatment is one of the most important part of a front door speaker install.
The tweeters are soft-domes and are actually quite ugly with that basketball grill. Luckily they're hidden in the stock sail panel area. They're angled towards the opposite-side front seat, rather than directly across like the stockers, since they're softies and the dispersion pattern is much more directional. I might've pulled off better imaging by mounting these in the A-pillars or possibly up at the top of the dash somewhere, but that would ruin the stock appearance and leave them exposed to dust, damage, etc. I can add pics of these later, but there really isn't much to see, heh.
And here is the amp rack in the spare tire well. It won't win any beauty pageants, but everything's secure and functions exactly how I designed it to. This rack attaches to the stock spare tire mount and fits tight around the edges of the spare tire well, for a tight and secure fit.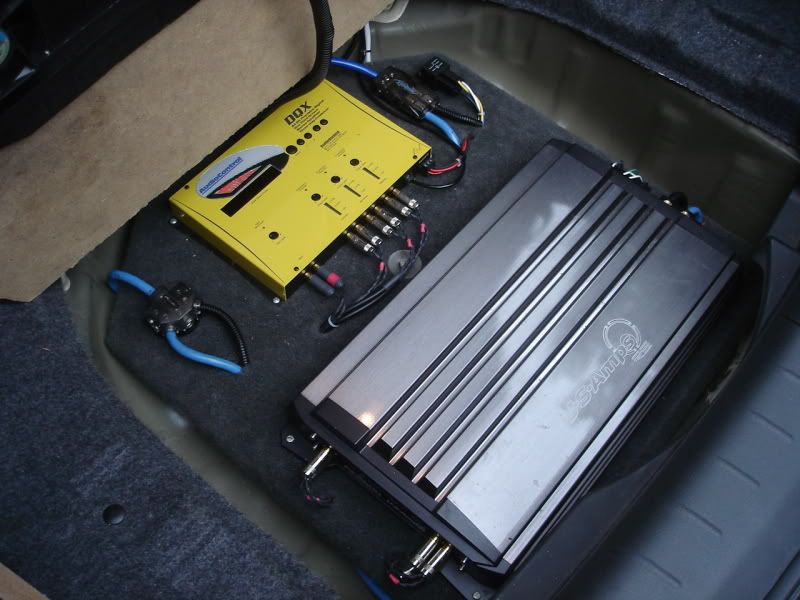 The rack contains the amp, EQ, power and ground dist blocks, and 12v relay to turn everything on without cooking something. The RCA cables were fabbed up by a buddy of mine. The connection from the headunit to the DQX is a 15' patch cable, with plugs at one end and bare wire at the other (to splice into the stock speaker leads from the HU). The other three cables are 24" male-male cables to connect the six channels of the DQX to the amplifier. Thanks to JamieJam here for tipping me off on using the stock HU leads as a 'balanced output' into the DQX, which saved me a few $$$ by not needing to purchase a LOC, CleanSweep, etc. (Note that this won't work with just any EQ or amp, unless it specifically accepts a balanced input or has 'speaker level' inputs instead of (or in addition to) RCA inputs.)
Heat buildup in the spare tire well was a big concern, so I installed the two fans you see in a push/pull setup, to keep 'cool' air circulating around the gear underneath. A portion of the lid was re-inforced using a plywood/walnut combo, since the lid is very flimsy without the spare tire/jack underneath to support it. And yes, I no longer have a spare tire, I'm not concerned and I don't wanna hear it.
This last shot shows the trunk from above. As I mentioned before, one fan pulls coooler air into the spare tire well, the other one pushes the warm air out. These are cheap 12v computer case fans (under $10 for the pair) and the system works very well at moving stale air away from the amp and EQ in the well.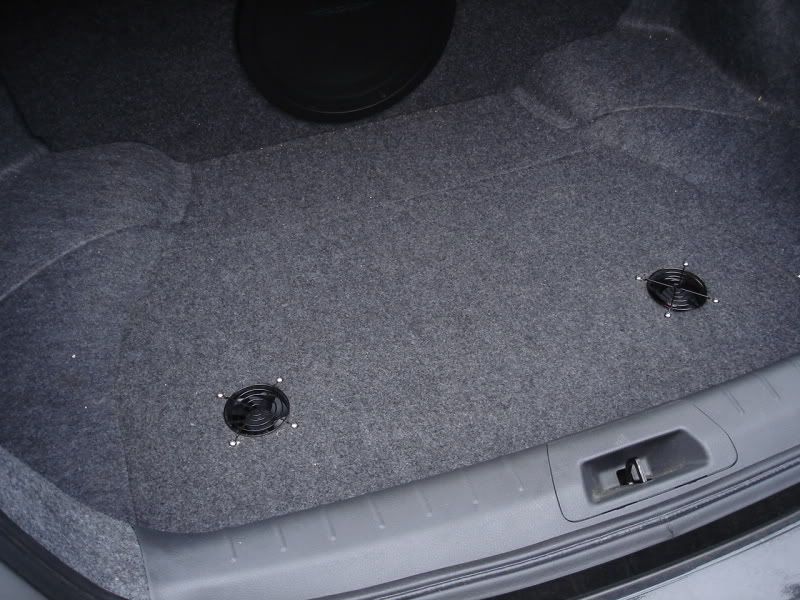 And finally, here's the DDC dash remote for the DQX. It allows complete control of the DQX via a 20' cable that plugs into the DQX unit.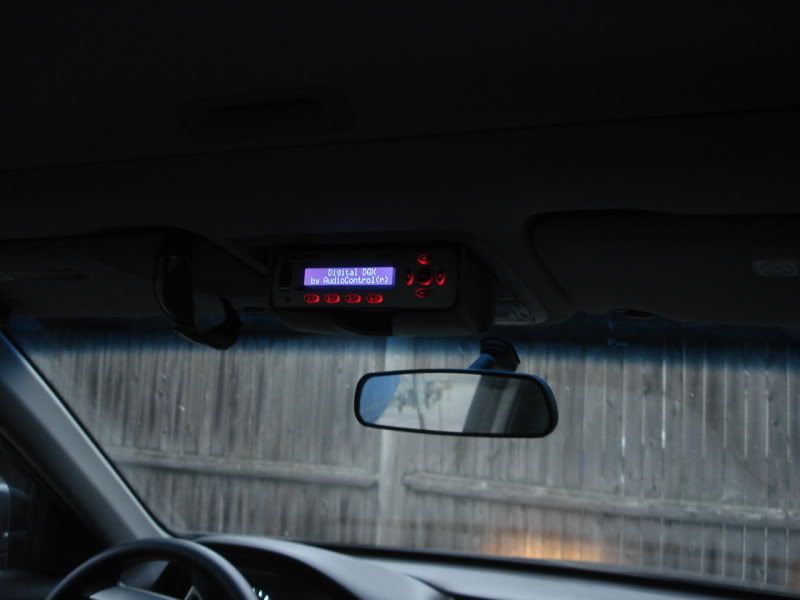 This was one piece of the install that 'just worked'. The fit in the sunglasses holder is PERFECT, it's very easy to use here, and of course it easily disappears when not in use.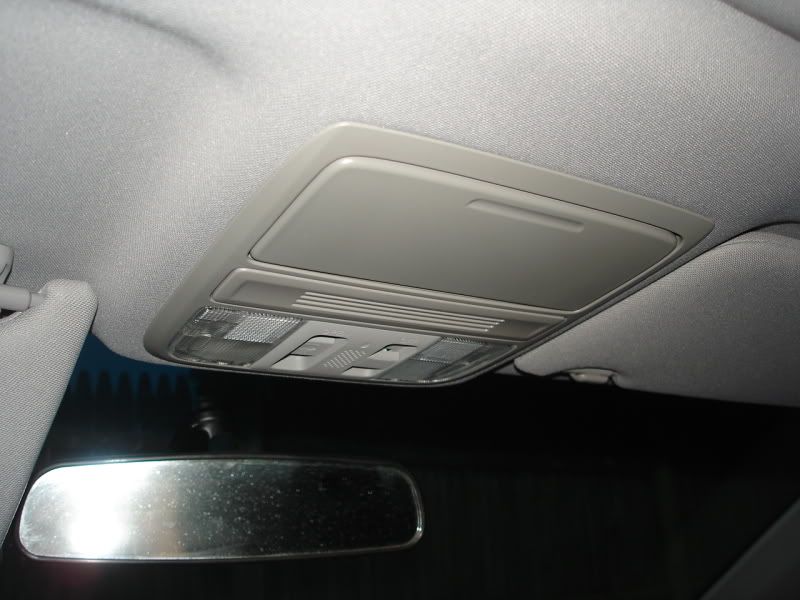 So I scored on all my goals: The car sounds great, far better than any setup I've had in my previous vehicles. Time-alignment would've helped with imaging a bit, but overall the sound is very clean, dynamic, and can play louder than I ever need it to, without straining. The cabin looks 100% stock, and I've got a powerful EQ within easy reach from the driver's seat.
Thanks for reading this long-winded post! I'll gladly answer any questions anyone has.
JP