·
Prefers to shift his own gears
I'm starting a thread to document the push to get our Accord to one million miles and beyond. My wife bought our Accord at Pensacola Honda in 2003. It was her primary car for several years and now it is my daily driver. It has been a phenomenally reliable car and is still in great shape mechanically and cosmetically. I'll try to break down the details below and will try to update this post as the miles increase. The interior and exterior pics are from April 2019. The odometer pic is from Dec 2018 when it hit 500k. As of November 2019, it has 589k.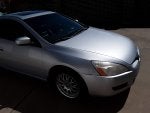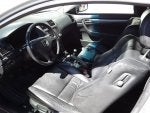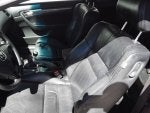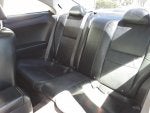 The basics:
2003 Honda Accord EX 3.0L V-6, 6-spd manual transmission
Moonroof
Leather interior
How did you put that many miles on the car?
Used as a family car for several years and then commuting to work. In the fall of 2015, it had about 185k miles on it. I started working part time as a courier doing deliveries all over south Texas. The miles have piled on since then as I am averaging around 100k miles per year for the past four years.
What kind of oil do you use?
Used Castrol 5w-20 until 140k miles. Changed it every 3,750 miles per Honda recommendation.
Switched to Mobil 1 5w-20 synthetic from there. I change the Mobil 1 every 15k miles.
I use oil filters designed for longer oil change intervals. I have used K&N, Fram Ultra Synthetic, and Purolator Boss filters.
Does it use any oil?
I add a quart about every 4-5k miles. The car does NOT smoke or leak any oil.
What kind of transmission fluid?
Redline MTL - change it every 100k miles.
Timing belt changes?
YES! Do these as Honda recommends. It gets changed out around every 100k miles (usually we change the water pump every other timing belt change). I've done it myself a couple of times. Usually costs us around $600-700 if we have a shop do it.
Original engine?
YES! To date, the engine has never been opened up for any internal work. No knocks or ticking. Valve seals are still good. It hasn't even needed the valve cover gaskets replaced yet. We did put on a new oil pan this year because the oil drain plug threads stripped out.
Original transmission?
No. The original transmission developed a minor grind going into 3rd gear (I've read the 3rd gear synchros are problematic) at around 280k miles. I dealt with it for awhile and replaced it with a junkyard transmission when the car hit 320k miles. The junkyard transmission had 52k miles on it when we installed it so it currently has around 320k miles on it and is still going strong.
Any mods?
Added Sirius XM radio a few years ago - love it!
Cold air intake
Tsudo exhaust
Drag brand rims from Discount Tire
Euro style tail lights
Other repairs?
First clutch lasted 320k miles. Second one still working well for now.
Replaced all of the struts, tie rod ends, flywheel, and rear main seal at 320k.
On my third set of spark plugs, third power steering pump, and third radiator.
Original driver's seat back adjusting gears stripped out so we bought one from a junkyard and it's still fine.
Just had the headliner re-done because the original material fell down in several places.
A few other minor things like door lock actuators, clutch slave cylinder, O2 sensors, etc.
Normal wear items like brakes, control arms/ball joints, tie rod ends, etc.
Original cv shafts lasted until 440k. Replaced these with OEM ones because I saw so much negatives posted about aftermarket ones.
The catalytic converters went bad around 500k miles. Caused an engine code to pop due to poor efficiency. Replaced them and haven't had trouble since.
Biggest complaint about the car?
Road noise seems to be really bad in older Accords. My wife's 2001 is loud too. I am going to use some rubberized undercoating on it and install some sound deadening mats. Hopefully it will help.
How hard do you drive it?
We never abused the car. I have had it up to 115 mph once. Once it got up to around 200k, I made a conscious decision to keep the RPMs low because I thought 200k was "high mileage." I generally shift just above 2,500 RPMs and don't ever let it get above 3,000 RPMs any more. With the V-6, I still get ample acceleration like that and don't rev it up high to prolong engine life.
Where does the car live?
It has been in Alabama, Florida, Washington, Mississippi, and Texas. The car has happily settled in Corpus Christi, TX.
It has been garaged most of its life, but there have been times where we didn't have the garage space for it.
I look forward to updating this thread as the miles continue to increase.