Discussion Starter
·
#1
·
I am pretty new to this forum and have been reading up how popular the radio to ipod install is. I decided to do it finally and it was a great success. If you have any questions or comments please let me know anything. And what you think of my post too. Thanks and I hope this helps anyone interested in this project, enjoy!
This is a step by step process of what I did to successfully install the auxiliary input connector for an ipod. I have a 2006 Accord EX with just a CD/AUX button. No navigation or XM radio are in my car, but this is the same process you would take even if you have navi or XM. However, if you have XM, you will have to disconnect the cable for XM to use the input for your ipod or MP3 player. If you don't care about XM and rather would have an auxiliary connect, then you're in luck. If you have Navi, then you may need to buy another connector cord.
The necessary auxiliary input converter I purchased is part # HON03/PC-SON. It is by PIE (Precision Interface Electronics). It says Honda to Sony and mentions it can be used for an external Sony Multidisc player. You are able to use it as that, but it also can be used for the aux device like i did. I got it off of amazon for about $70 from Audio Connections. $70 is a pretty good deal because most of them are between 60-120 depending on where you go. I believe Best Buy sells a whole kit to convert your car but it is well over $100. By doing it this way you save a lot of money and can do it easily yourself. The only other cord you will need is a simple RCA cable. The one that actually goes into the iPod device.
Necessary things:
Grab some zip ties to keep it all clean, some double sided thick tape to mount the converter box, scissors, screwdrivers (phillips and flathead), and also a couple different sized rubber gromits to put in the hole so it looks professional and clean (Not pictured). The gromit size will depend on how big the hole you drill is. Also, it is good to disconnect the negative part of your battery. Make sure you have your radio code handy for reconnection otherwise you can't use it!!!
Pull up on the front of the gearshift cover and there are 4 snaps that will pop it out pretty easily so you can expose the ashtray screws. It is easier to put the gear shifter in the low gear so it is out of the way. Just pull the parking break. Turn the key as far as it will go and keep it in.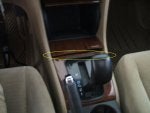 Unscrew the two screws to allow the removal of the ash tray unit.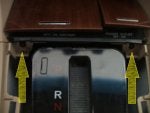 You will be able to pop up the ash tray unit with the removal of the two screws.
(I am posting the rest of the steps in seperate posts so I can include all of the pictures.)