Discussion Starter
·
#1
·
Hey guys, so those of you who saw my earlier post, I finally got started on the project. This has been one of those "take my time" kind of deals so that way I can make sure it is done correctly. Hopefully I explain everything right as I go along with what I have so far. Mods, if this should be in the DIY section, feel free to move it there and I'll create a thread to link it for everyone here. I put it here since this was done on a 7.5 gen headlight.
The first thing I did was went to the hardware store and bought two 5mm bolts with matching nuts. You can use whatever size you want for this, just make sure the nut and bolt matches (obviously.)
I used a big pair of bolt cutters to cut the existing bolt down. I tried to get it as flush with the plastic as I could.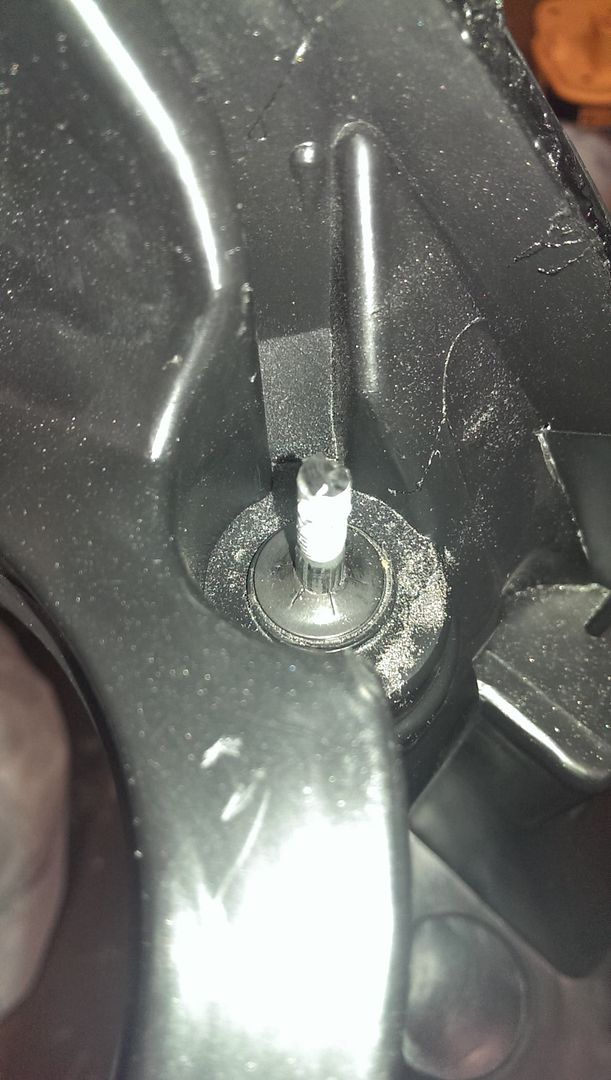 I used a dremel to smooth out the surface.
After that was done, I took those same bolt cutters and removed the heads of the bolts I was going to be using. I used my dremel to smooth the edges.
They aren't the EXACT same size, but given the location, the difference of that little amount won't be noticeable. My test for having them flat enough was being able to have them stand on their own. :thmsup:
This next part was hard to get pictures of while I did it, but I'll do my best to explain it. Play with the bolt on the housing and get comfortable with how you are going to want to place it. I had my mom help me by holding the housing with the bolt facing directly up so I didn't have to worry about that.
Once you're comfortable with how you're going to do it, mix some JB Weld together. I just used a paper plate, and once it was mixed, I dipped the bolt into it and placed it on the housing bolt.
Make sure when you put the bolts on, they are contacting each other on the side that was dremeled. You need to leave the untouched side up so you can put the nut on it.
I held it there tight for about 2 minutes to let it dry. It hadn't quite dried for me yet so I went to the next step while still holding it with my hands. I took some more JB Weld and applied it to the bolt AROUND the contact point. I wanted the entire thing covered there. After I did that, I put a shrink wrap around it. Yes.. A shrink wrap... Used for wires... It worked very well actually.
The shrink wrap picks up some of the JB Weld on it's way down. I cut about a 3/4 in piece of wrap and made sure that the contact point was in the middle of the wrap. Heat that and make sure to keep the bolt steady through the process. You can let when it gets too hot, but make sure to poke at it to keep it centered. Once the shrink wrap cools off, it straightens out and helps keep the bolt upright and centered.
This is now where I am
Here's a top down view. I tried to get it centered with the locking nut in this picture so you can see the bolt, is in fact, straight and centered!
And here are the nuts I originally bought, but I think I'm going to get something a little bigger for the final product.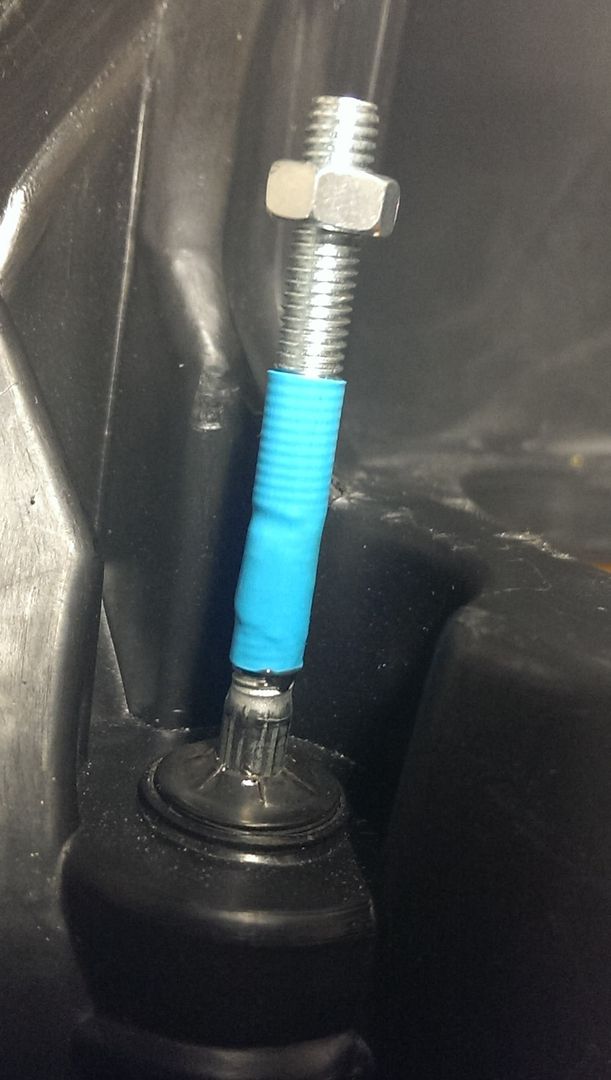 I'll keep everyone updated as I keep moving forward. I do have plans on removing the shrink wrap probably tomorrow after I can guarantee the JB Weld is solid. I'll probably apply some more. I had the idea of putting some soldering wire on it which I might do. That would definitely keep it strong. :naughty: